My Role: User Researcher and Strategic Designer
Project Duration: Two Months (2018)
Client: Lakewood City Council
Methods: User Interviews/Quantitative Analysis, Research Report
Output: Findings and Recommendations Report

Synopsis: Lakewood, Ohio wanted to improve the health of it's city by introducing a new pro-wellness system. The city council of Lakewood hired me and my colleagues to create a strategic design via a qualitative and quantitative analysis of factors that impact city health. To do this, we interviewed owners of wellness-related businesses and services to understand their challenges and opinions related to working in Lakewood. Afterwards, we audited all territories in Lakewood based around their accessibility to health facilities, public transportation, and healthy food. The end result was a full research report identifying areas of strength and weakness in Lakewood.

Lakewood needs help

Lakewood, Ohio is the largest city between Chicago and New York City. It's population is diverse, and welcoming. That being said, North-East Ohio is experiencing a wellness crisis related to lack of wellness facilities, healthy food, and rehabilitation centers. Our goal was to take a human-centered approach to identifying areas of need and improvement for Lakewood, as well as deliver a sustainability plan for the future.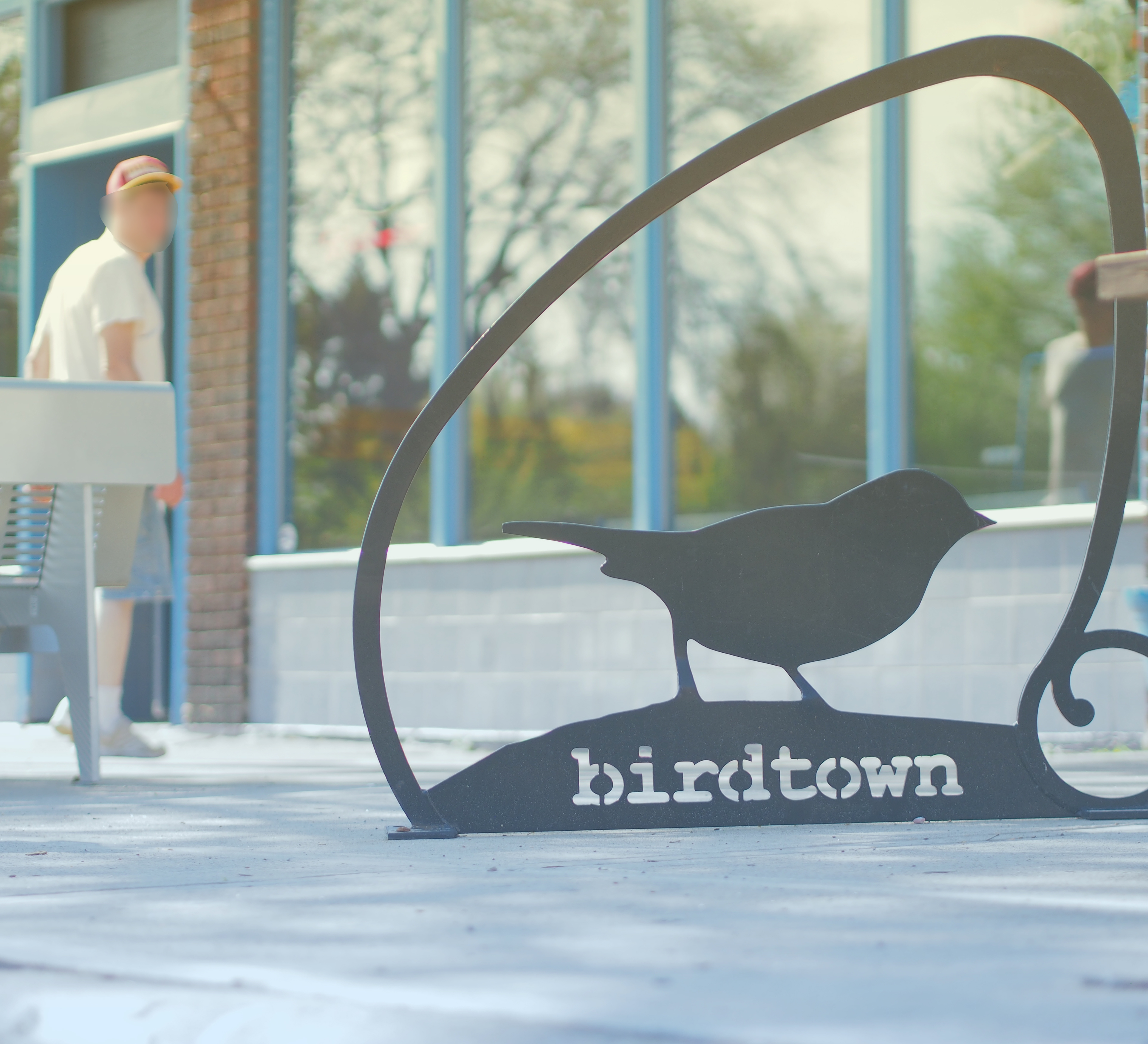 Interviewing Small Business Owners

We started our by talking with a gauntlet of some of Lakewood's larger business owners and eventually worked our way down to much smaller health facilities. What we learned from them was interesting. We found that Lakewood business owners were not opening or closing their businesses regularly, sometimes not showing up all together. This made it difficult for citizens to build trust in their facilities. Furthermore, we learned about some of the characteristics that make Lakewood an attractive place for wellness facilities, and how to improve their accessibility.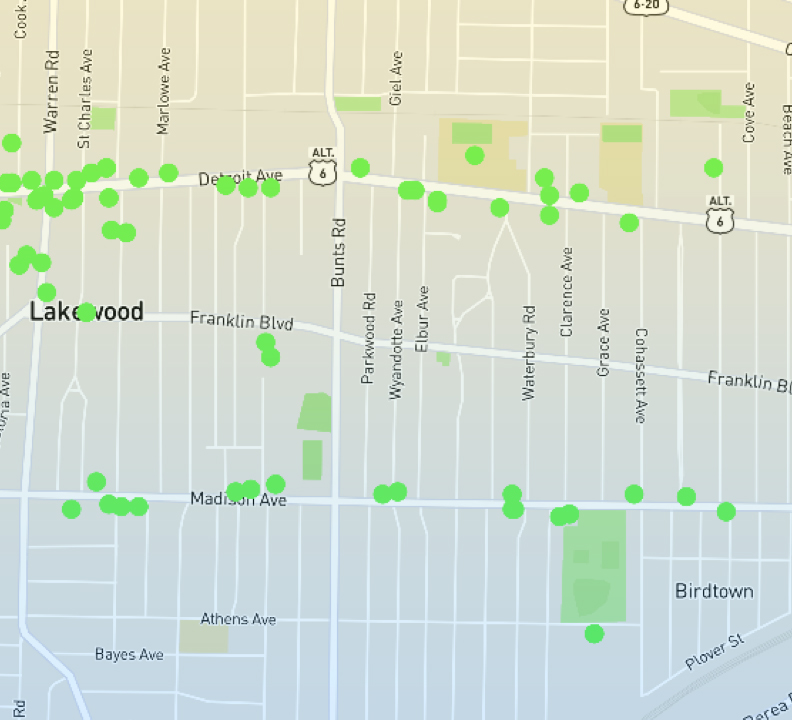 Quantitative Analysis

It was my job to identify every wellness-related business in Lakewood and map them based upon region. What I found by doing this was that almost 75% of wellness-related facilities were clustered around two busy streets, where about 50% of Lakewood only accounted for about 10% of wellness related businesses. That combined with lack of public transportation was greatly impacting the wellness of their Downtown East and Downtown West districts.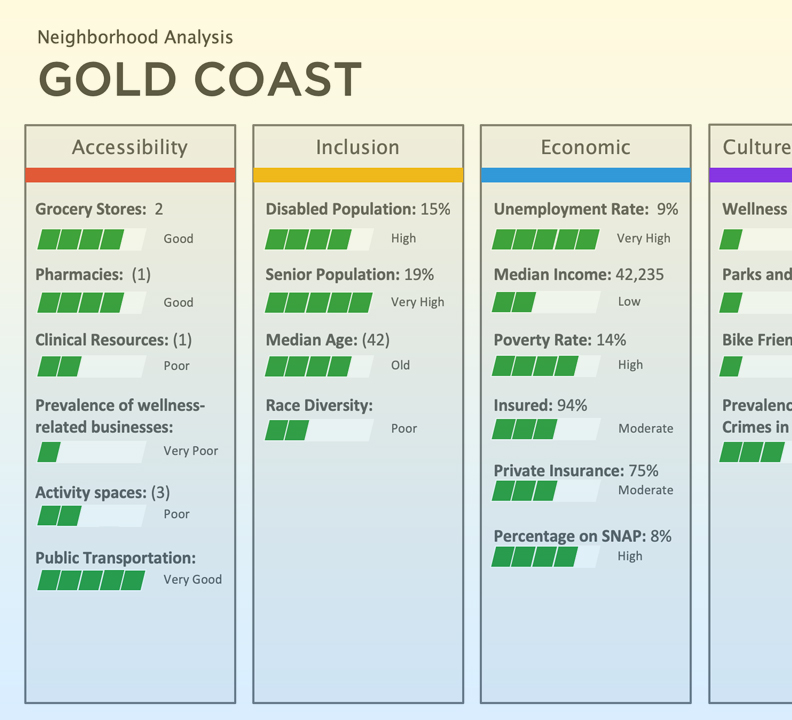 Data Modelling

Using the data I gathered from every territory (with support from local data company 'PanData'), I built out models of each Lakewood territory which drew special attention to areas where they are succeeding and areas where they need help related to health. The purpose of this was to provide a high-level overview of where Lakewood is the most healthy, and areas that need the most help.
Research Report

The Lakewood Wellness research report was presented in front of City Council by our team, and was accepted by the mayor as a viable plan for improving city health.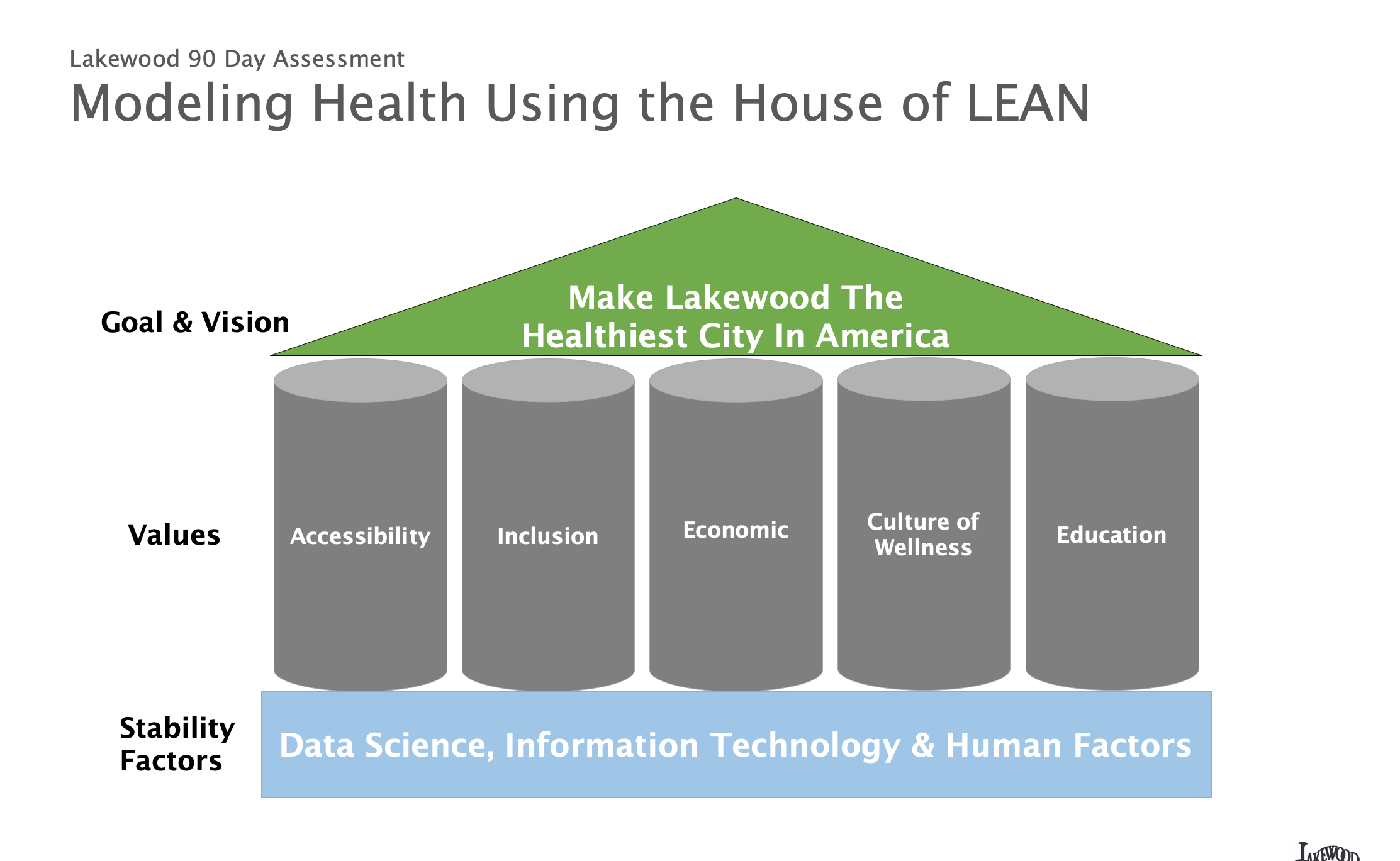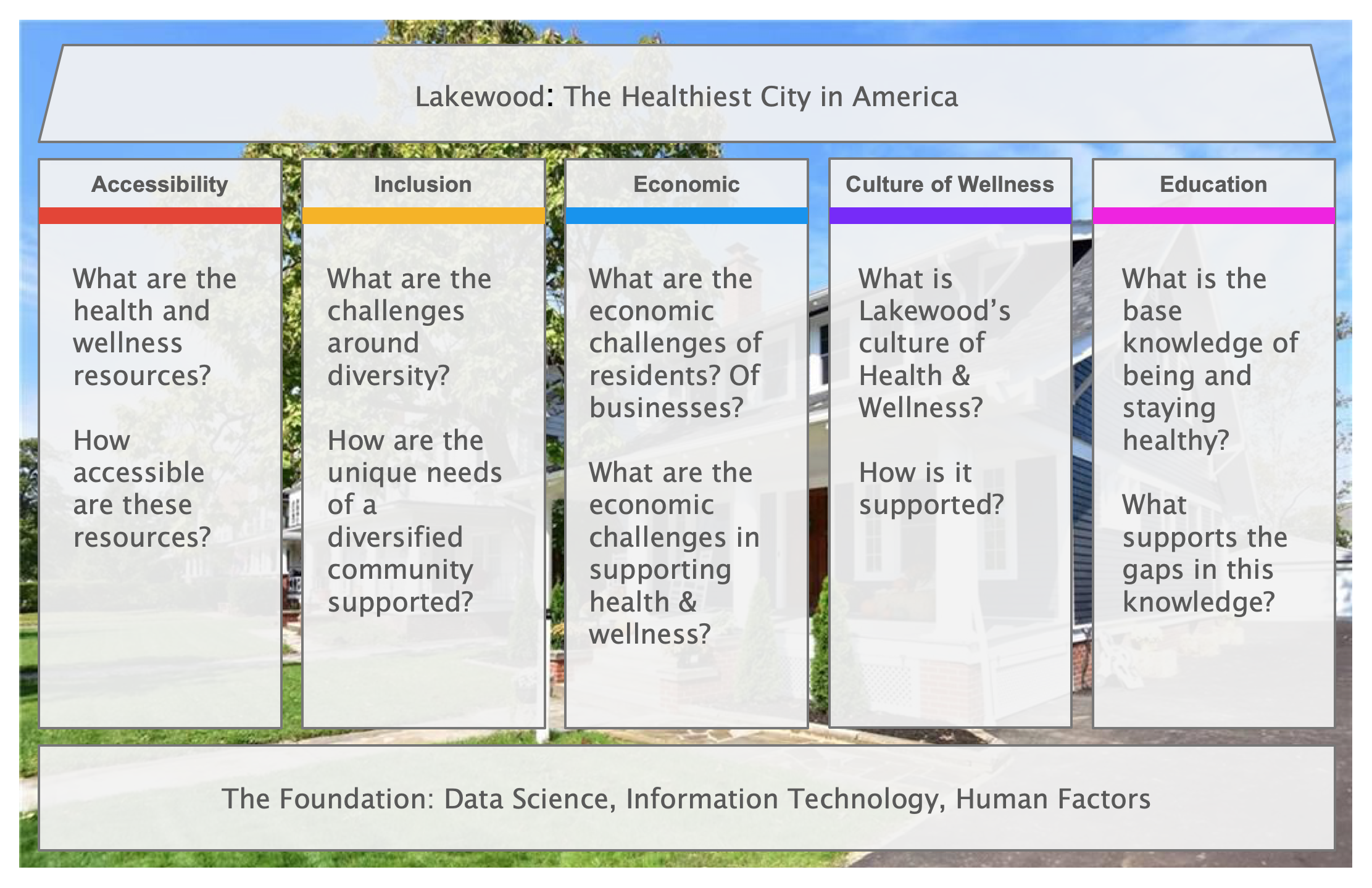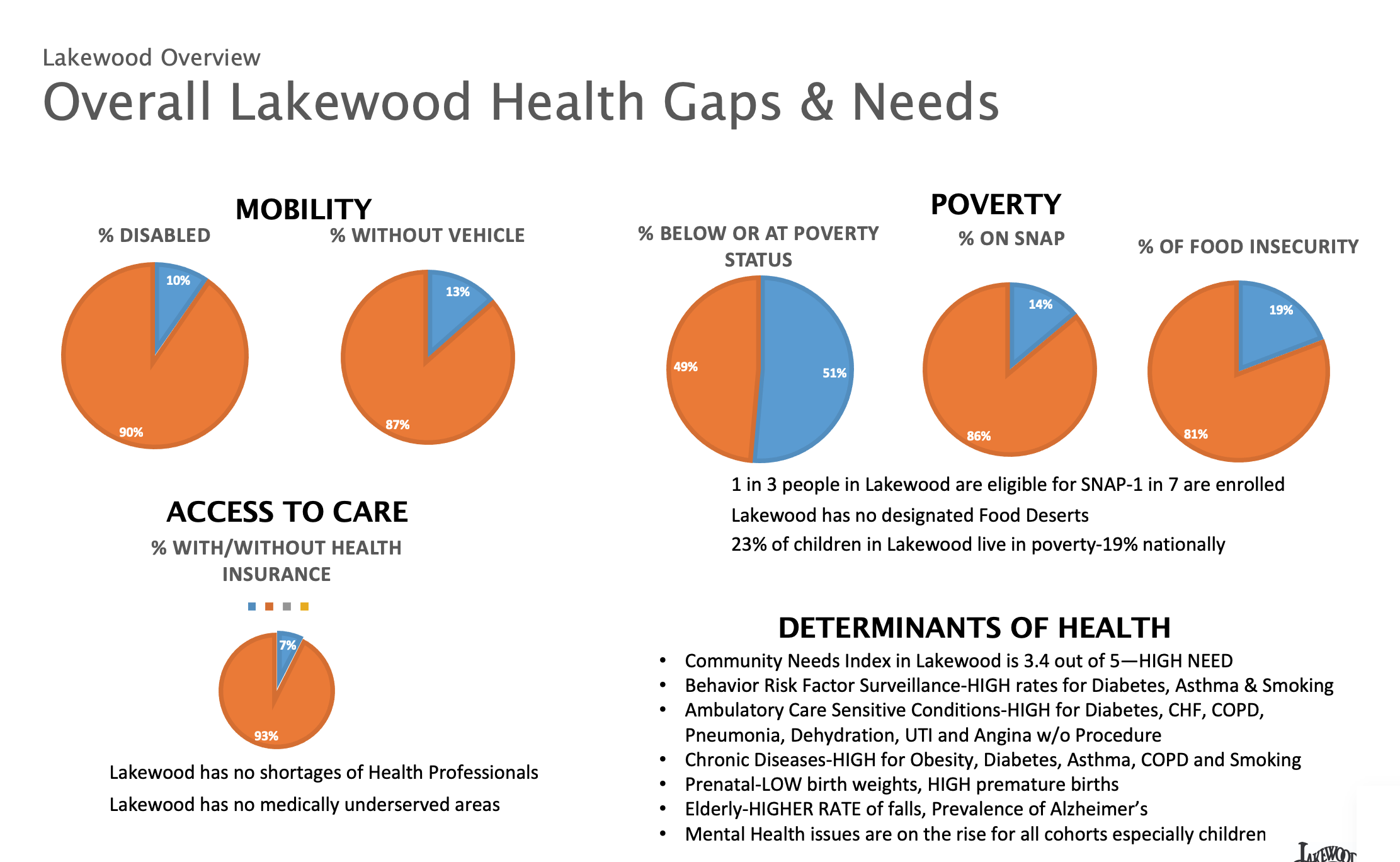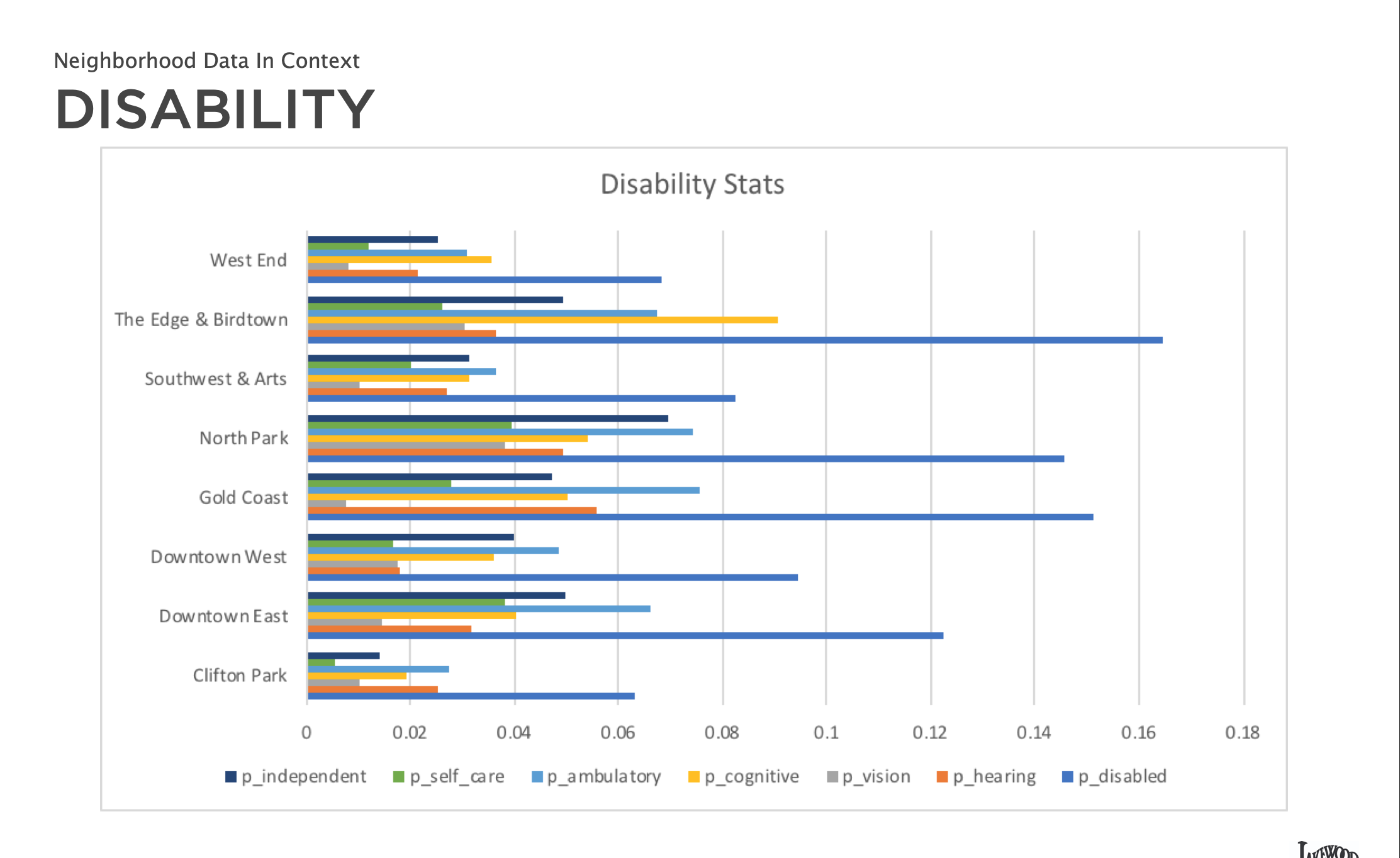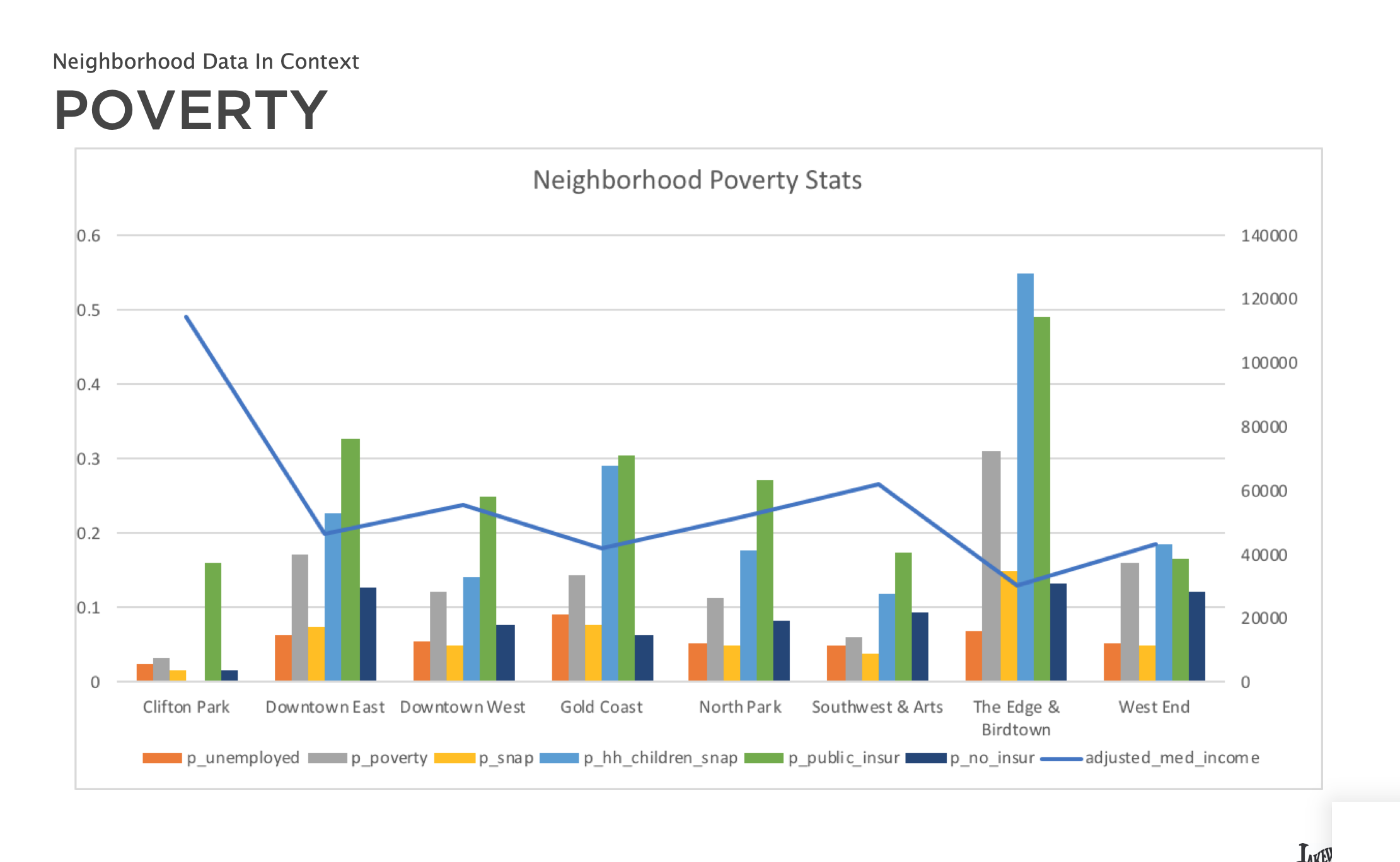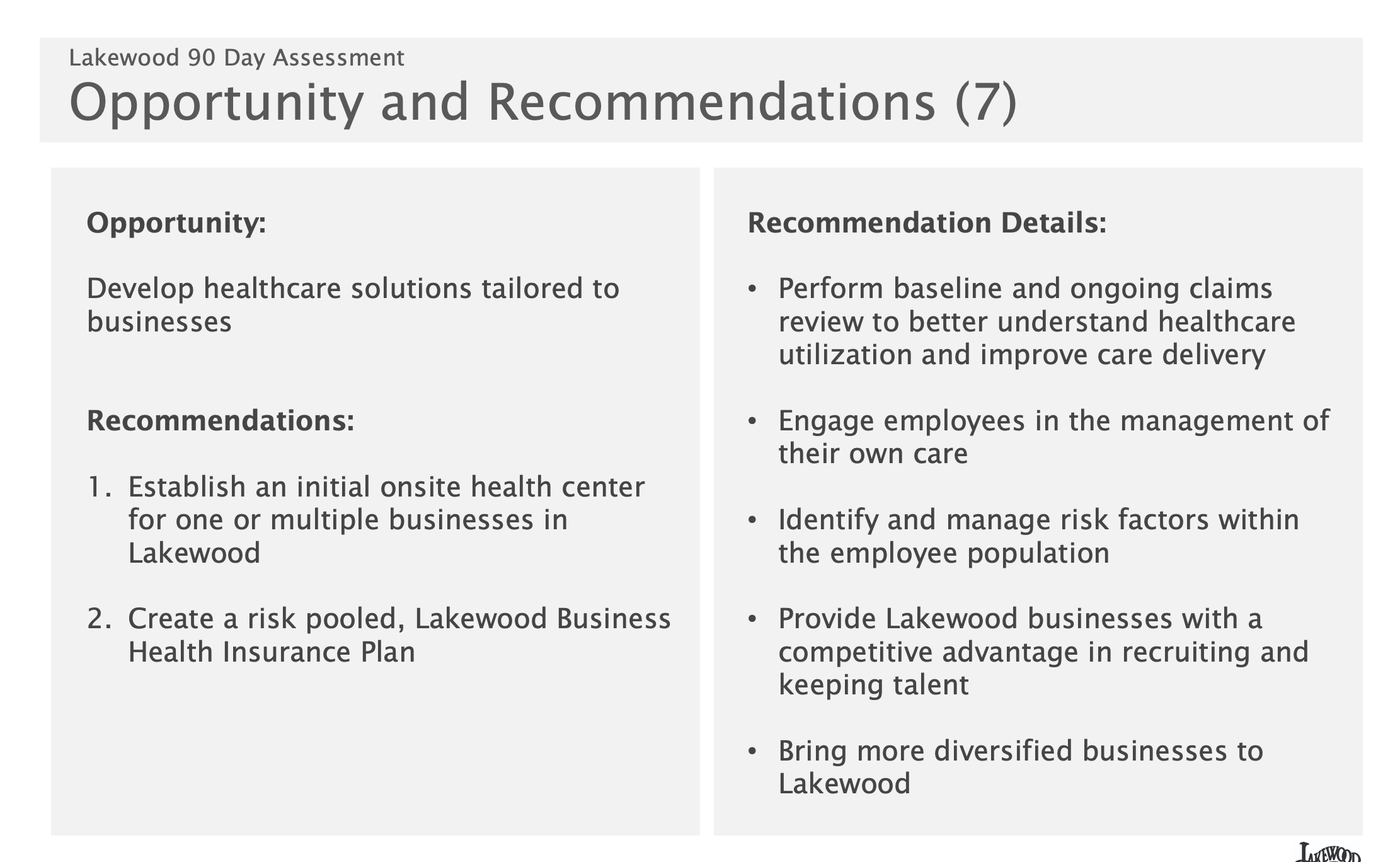 Lessons
So much data was acquired throughout this project. Census data, transportation data, survey data, qualitative interview data, educational data (the list goes on). Managing this data and analyzing it in a way that provided value was a major challenge. Not all of the data was completely usable, so sifting through it for data that provided the most value and insight was a difficult task.
What I learned through this process was that creating research questions helped anchor me to goals- for example "What areas of Lakewood experience the most crime?" or "What areas of Lakewood have the most wellness-related facilities". By using the data to answer these questions, I was able to create hypotheses for how Lakewood could be improved, and report about the data in a way that was cohesive.