BALANCE CONTENT STRATEGY / USER RESEARCH
My Role: User Researcher/Content Strategist
Project Duration: Three Months (Q1 2019)
Client: Balance Innovation & Design
Methods: User Interviews, Content Auditing (Internal and Competitive), Personas, Wire-framing, UI Design, Web Development
Output: Sustainability Document

Synopsis: While working at Balance, I was tasked with running a Content Strategy project through the first quarter of 2019. I prepared a roadmap consisting of 10 different stages including stakeholder interviews, client interviews, personas, message architecture design, taxonomy design, content calendar creation, and governance model. My final task was to take all of the data I accumulated and develop a sustainability document using HTML and CSS through Squarespace.

The best kept secret in town
Being called the best kept secret in town is not necessarily a good thing. It's a sign that your company's services are good, but marketing is bad. For a small team of 5 designers working full-time, this is not a huge surprise. When a client told us that we were too much of a secret, I made it my goal to create a plan to improve Balance's marketing reach by using a Content Strategy roadmap I developed.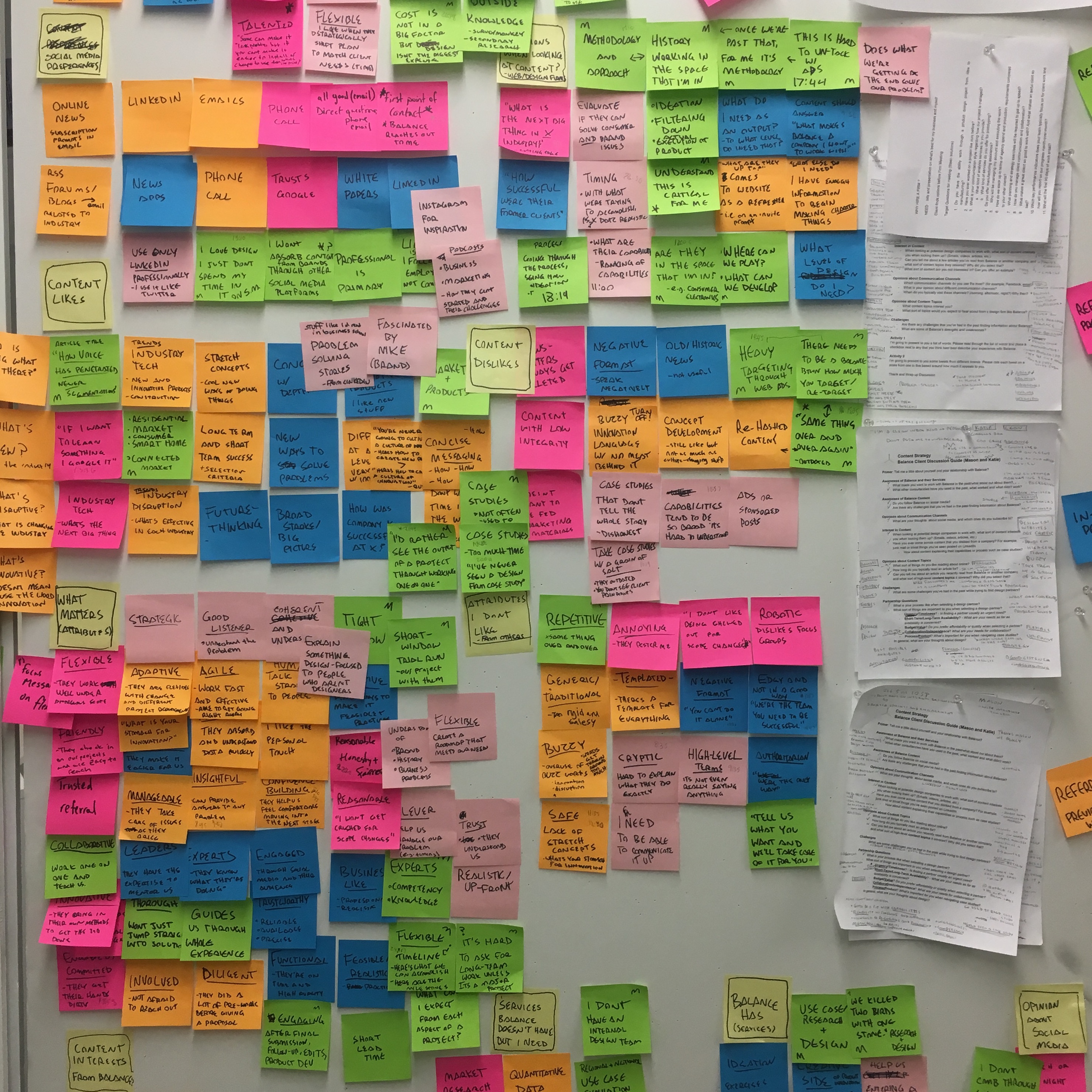 Discovery and Personas

This part of the process was intended to capture areas of need and growth in Balance which are specifically tailored to it's members and audience.

This process consisted of:
6 stakeholder interviews
5 client interviews
1 Findings Report

Using the data acquired through discovery, I created two empathy-based personas used to understand the content that best resonates with Balance's intended audience.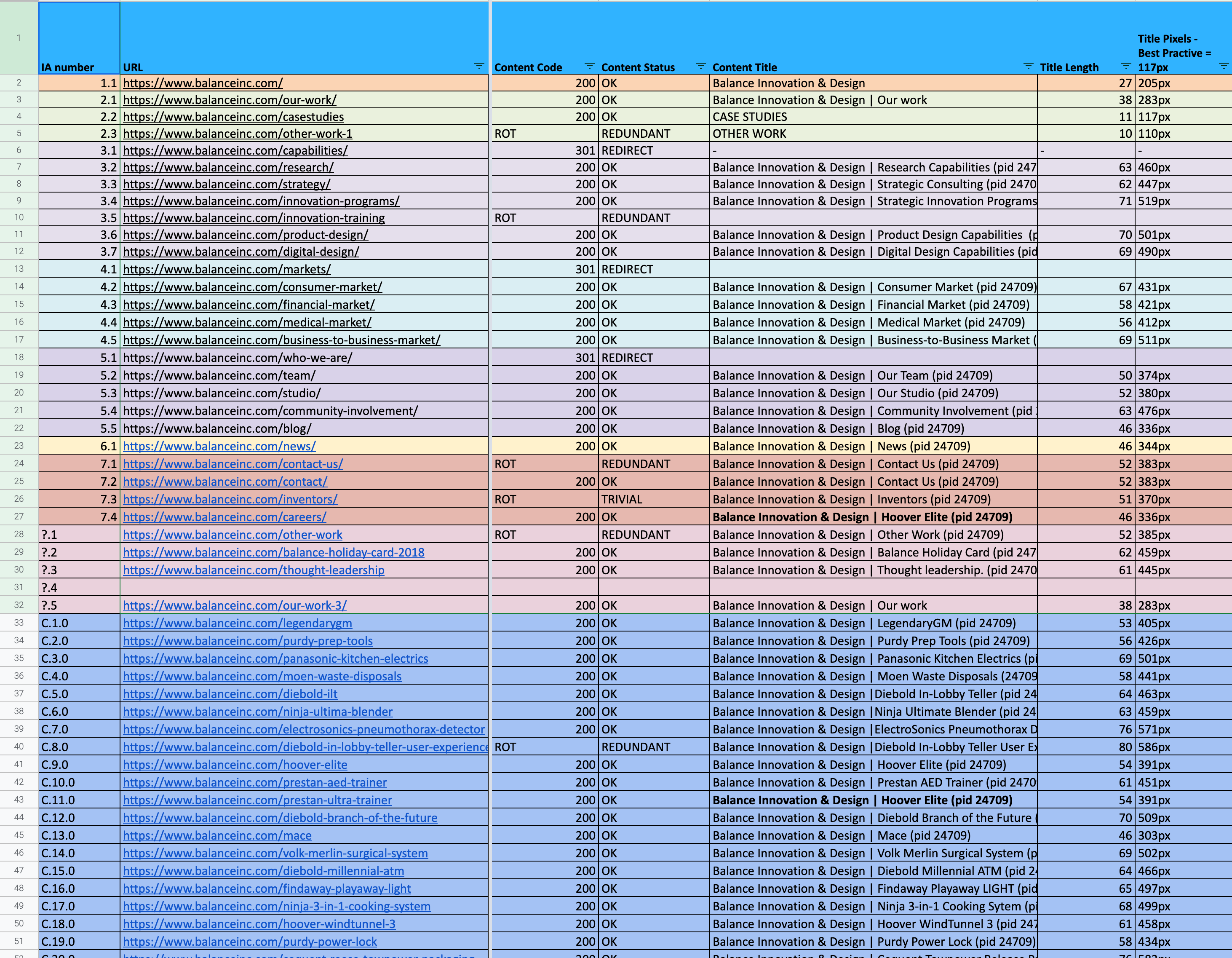 Content Audit and Comparative Audit

By analyzing Balance's website with a Content Audit, I was able to identify content that needed to be kept, revised, archived, or deleted. The findings from this audit were communicated through a findings report.
After completing the audit, I ran an analysis on the websites of some of Balance's biggest competitors to understand where Balance excels and where it's competitors have the edge, especially with respects to voice, tone, and message architecture.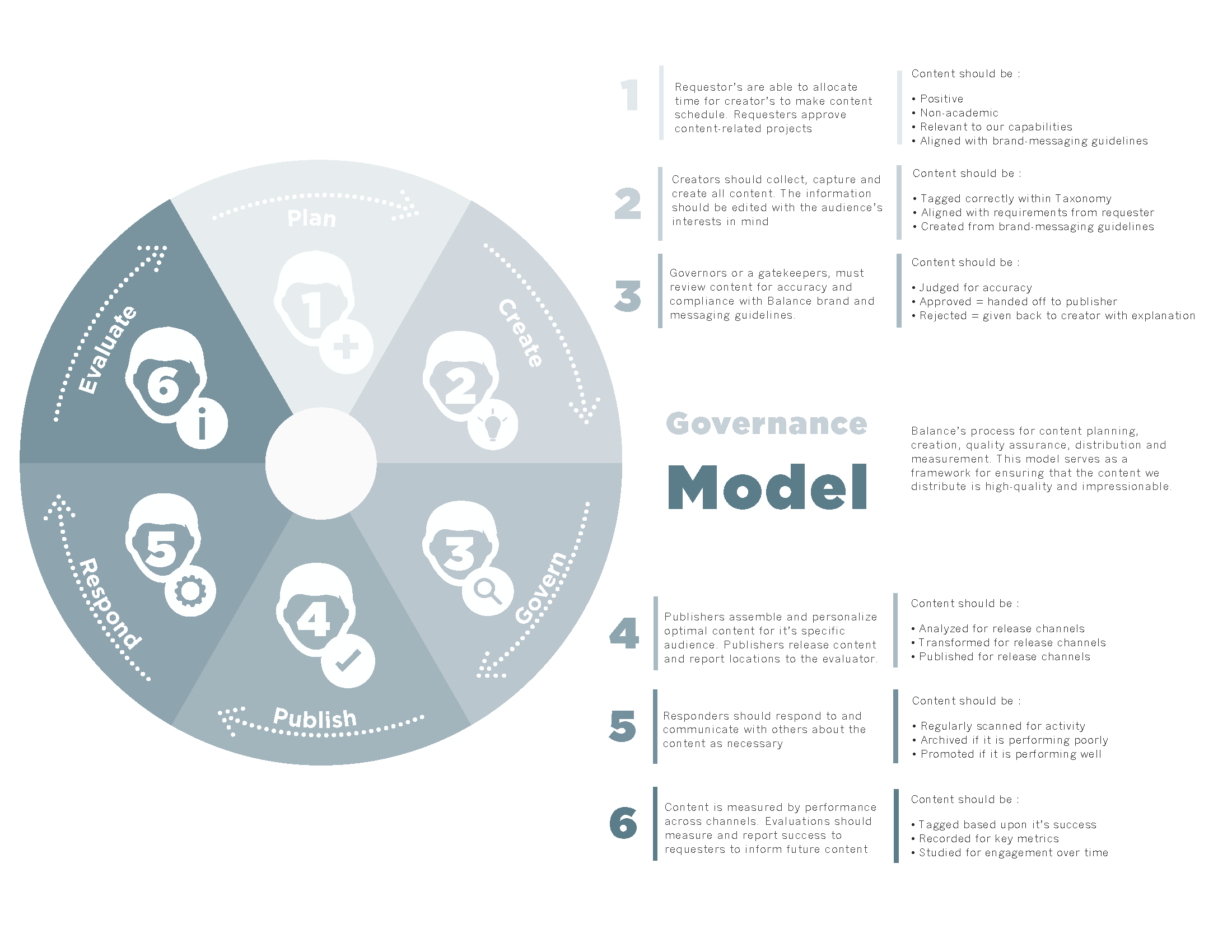 Governance Guidelines and Content Guidelines

I created a governance plan to make sure that everyone at Balance could play a role in keeping the content strategy alive. I also created content guidelines so that every piece of content Balance put out would have a simple template to follow, whether for constructing a case study or blog post. I also built out Balance's message architecture which would help guide all content moving forward.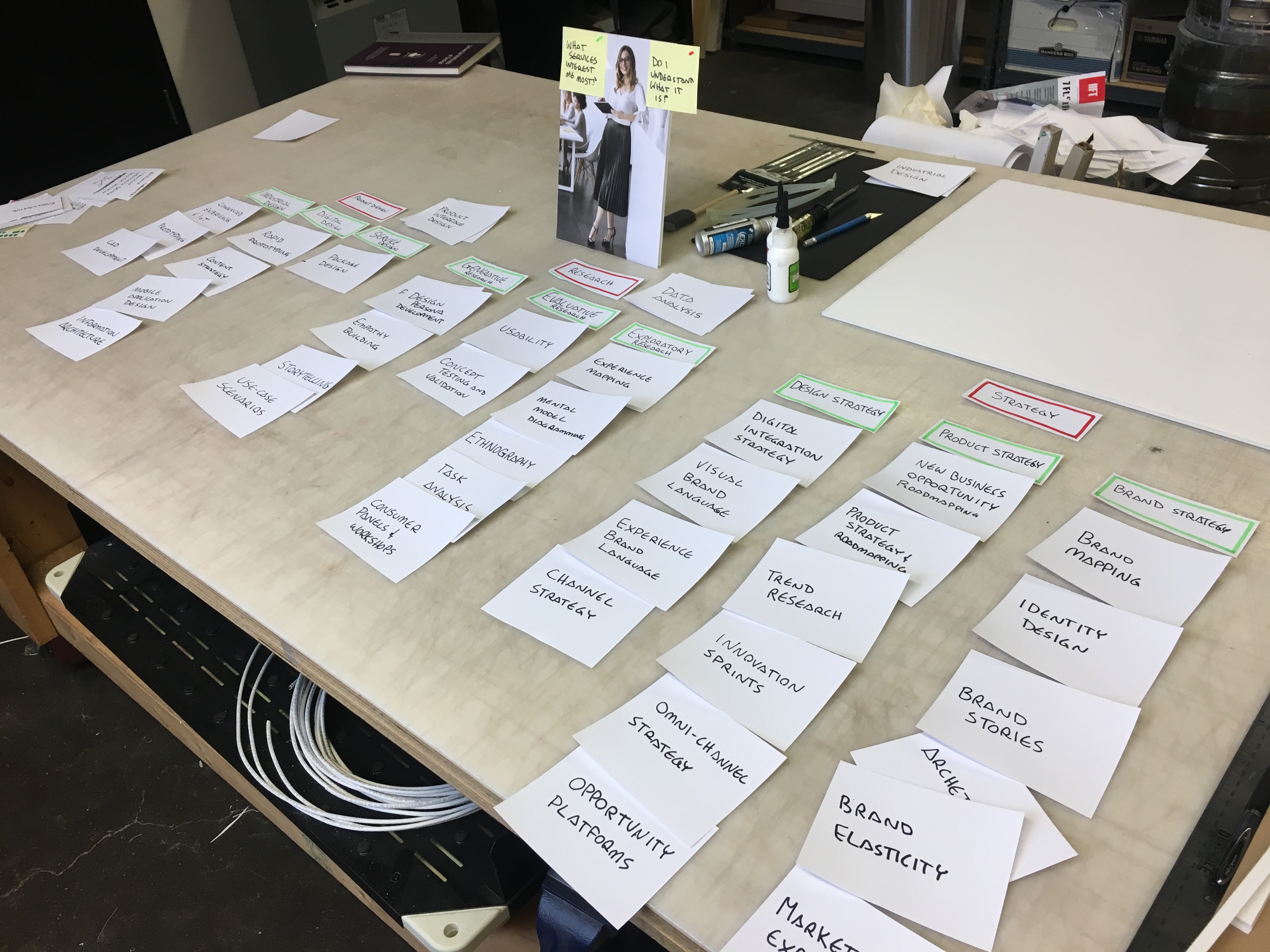 Content Taxonomy and Migration Plan

When it came to the way content is organized and shared on Balance's website, things were pretty messy. To remedy this, I designed a taxonomy which could be used to help organize our content into a tagging structure. To do this, I ran a card sort exercise to disambiguate Balance's markets and capabilities.
I also created a migration plan to transform Balance's old case studies into a new format that reflected our taxonomy.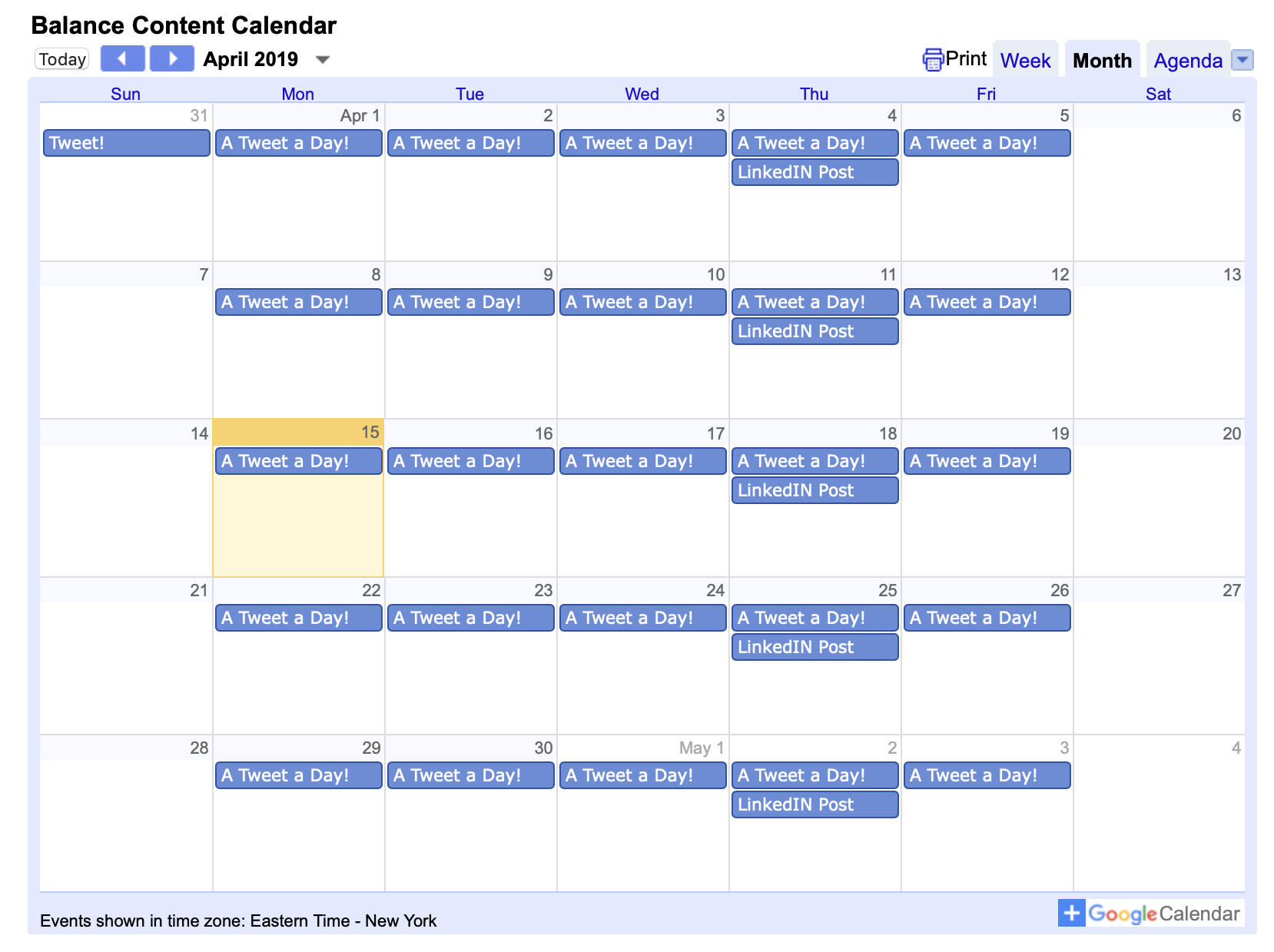 Calendar and Sustainability

Using HTML and CSS, I created a sustainability document including a content calendar to help Balance sustain a social media presence and a consistent voice and tone.

Sustainability for Content Strategy
The sustainability document I created includes six distinct sections.
Styles: Includes color pallet, typography, and logo guidelines
Calendar: Includes a content calendar with content and channels to be posted to every day
Content Guidelines: Includes Message Architecture, Brand Guidelines, and Content Types
Taxonomy: Includes Balance's tagging structure
Personas: Includes Balance's audience personas
Governance: Includes Balance's governance model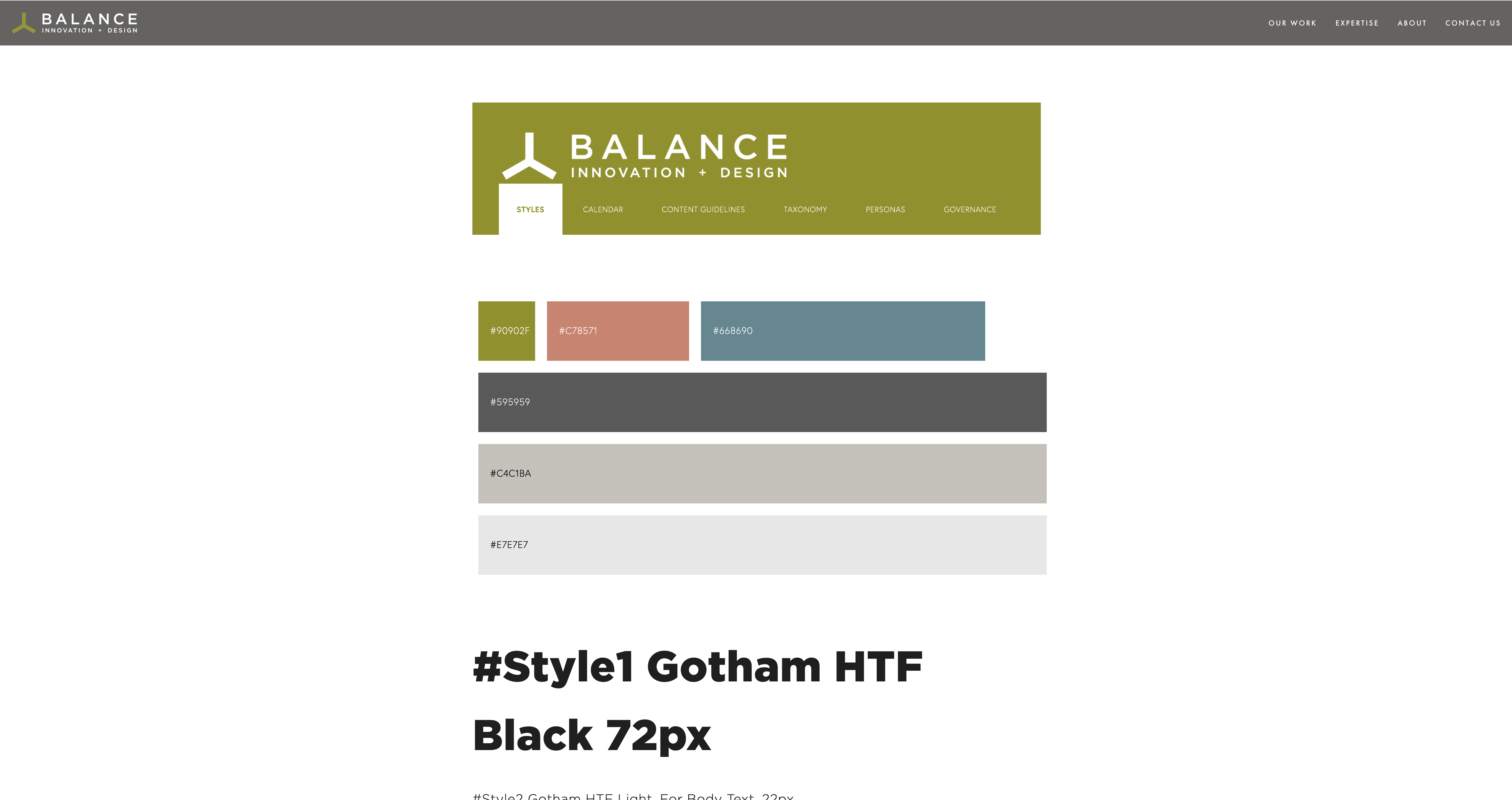 Time Constraints and the One Man Band
This was a wild project to run independently. I was given two months to have this project finished, and by the time I was halfway through my timeline was cut down by two weeks due to receiving more client work. I saw this not as a bad thing, but a reason to make sure that any more work I did on the project had to be great work. This meant leaving the crowds of data behind and focusing instead on the major findings I had developed. I also had to redesign Balance's website which was an additional challenge thrown into my roadmap, but was heavily desired by stakeholders.

It was great to be able to flex my skills in HTML, CSS, and Javascript, but working under the constraints of Squarespace was a challenge. This meant I was much more limited in what I could and could not design, and due to time constraints it was even more important that I not need to backtrack in the future. My execution had to be perfect. It was especially challenging to understand how Squarespace handles custom code.

The amount of support I got from Balance was incredible. I loved learning from everyone what their individual needs were from this project. I even got hooked up with clients from G.E., Cleveland Clinic, and Moen to help me come up with a strategy tailored to them. Balance is an incredible company, and doing this project was an honor.