BREAK ROOM VIRTUAL REALITY DESIGN
My Role: User Researcher, Product Designer, Developer
Project Duration: Two Months (2019)
Methods: Usability Testing, Spatial UI Design, Prototyping
Output: Oculus Go Game

Synopsis: Break Room was the capstone project for my Master's program. My goal with this project was to utilize Human-Centered Design methods to design a lightweight VR game with a completely diegetic UI for Oculus Go. At the time of Break Room's release, Oculus Go was the most lightweight tetherless consumer VR headset with more technical constraints than other HMD's. The technical constraints made designing Break Room an interesting challenge. Lessons from this study included interaction design, iterative design, and prototyping through Unity.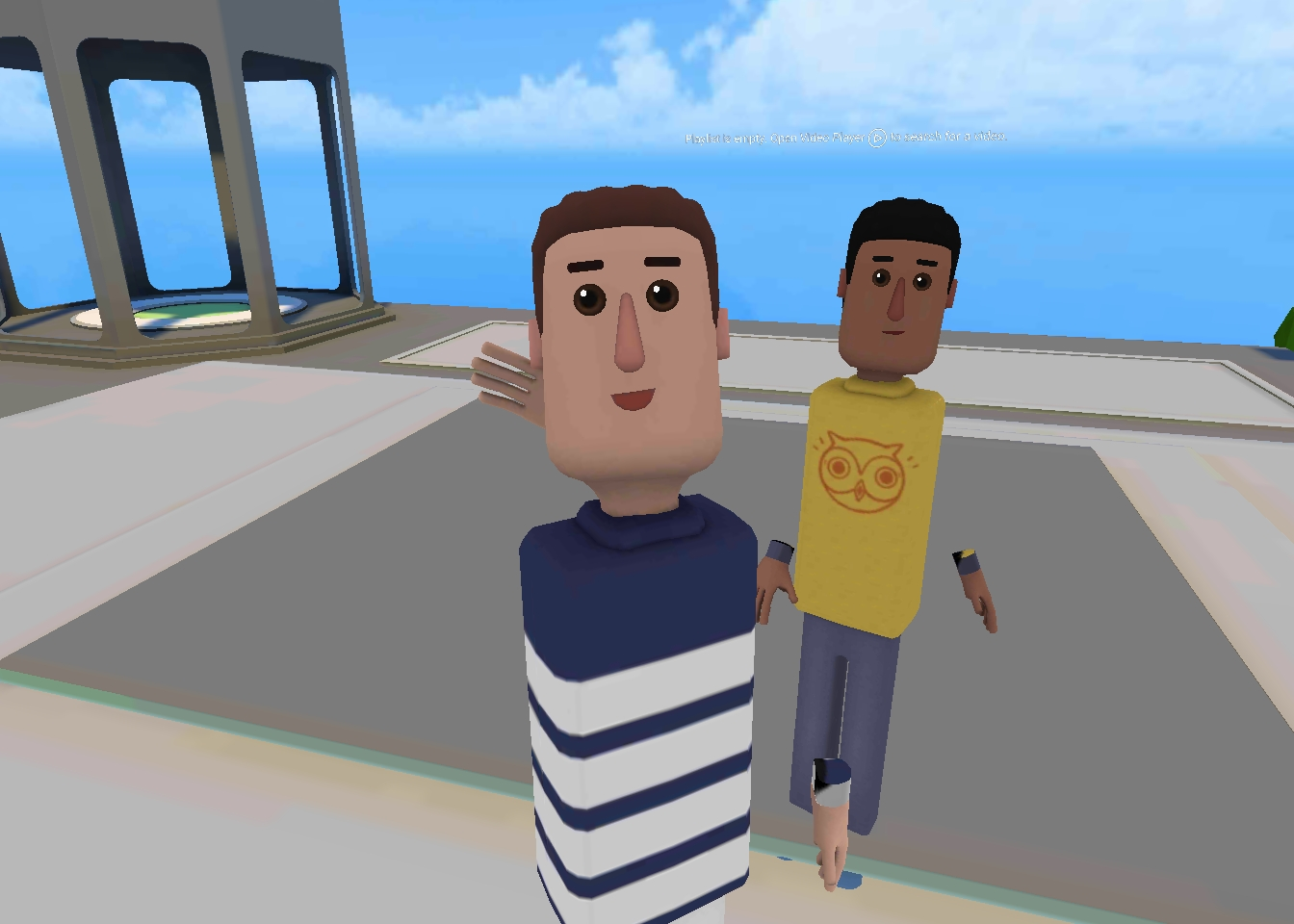 I started talking with people
My goal was to develop a lightweight virtual reality (VR) application with the target platform of Oculus Go. I started by interviewing five Virtual Reality users inside of AltSpace VR to understand what people liked/disliked about VR apps they had used. This exercise spawned two unique personas.


Dave: Simple and Social - Prefers short VR experiences.

Dee: Brain Hacker - Likes doing impossible things in VR.


Based on my interviews, personas, and personal research, I decided to design a lightweight VR game that should last no more than five minutes. The goal was to do this under a time constraint of seven weeks with a build platform of Oculus Go.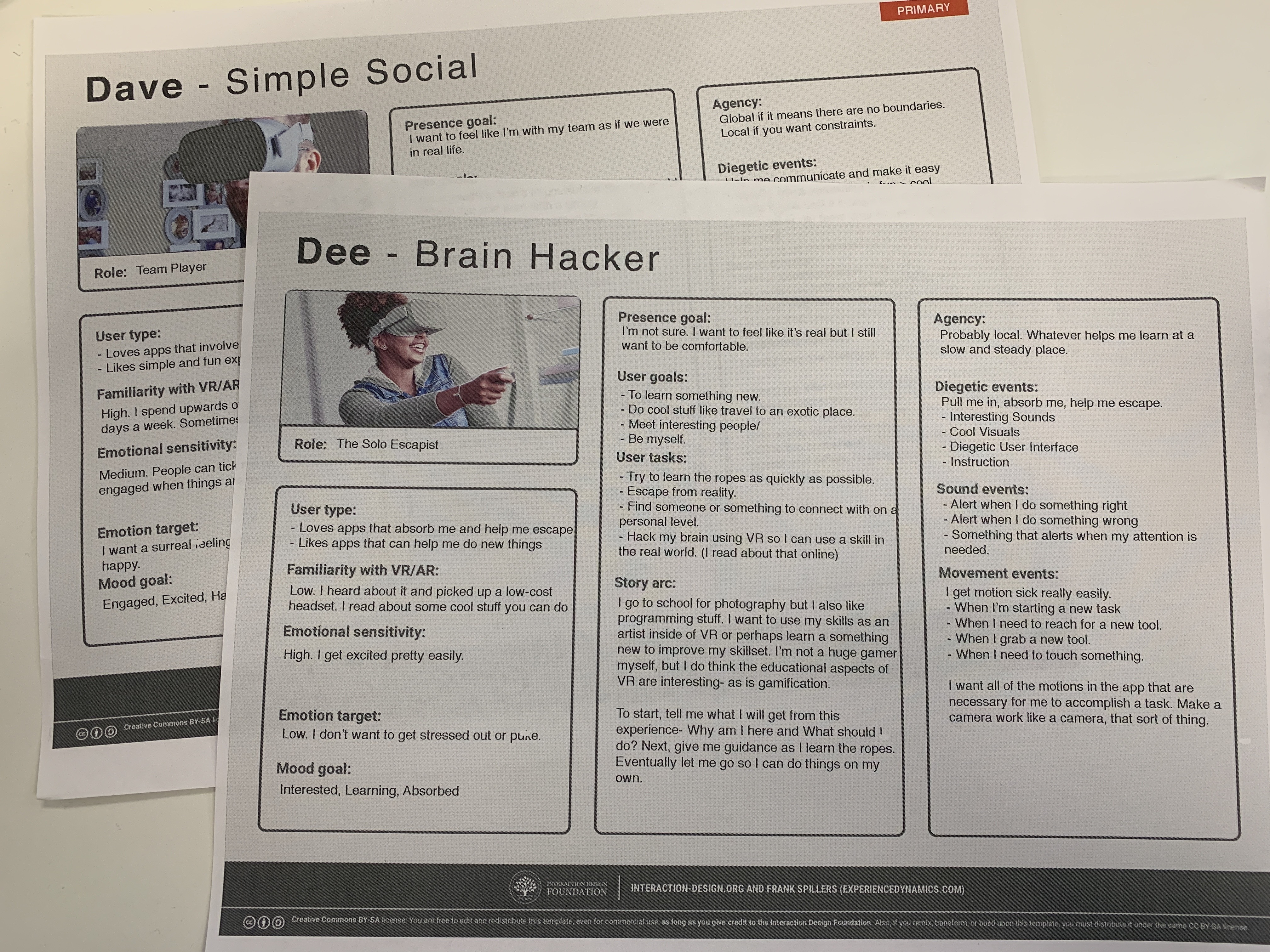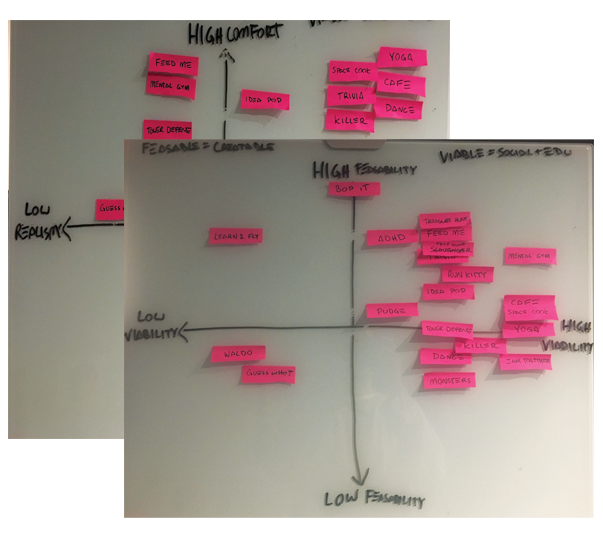 Early Ideation
Weighing the Variables of a Good VR Experience

I generated over a hundred ideas for a VR concept through three brainstorming sessions. After consolidating the ideas into twenty-one solid ideas, I placed all of them onto two Kano matrices for a modelling exercise. The two matrices included:

Feasibility: How do the constraints impact the product?

Viability: How much would my personas like the product?
Comfort: How comfortable would the product be?
Realism: How realistic/immersive would the product be?
From this exercise, I came up with an idea that met all of my criteria and was feasible enough to complete under my time constraint of seven weeks.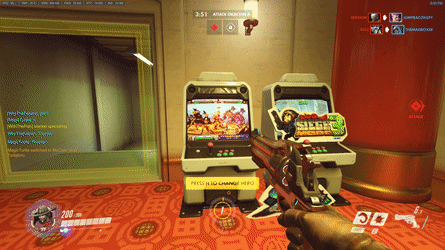 Project Name: Break Room

Concept:
Design a VR game for Oculus GO that challenges the user to break things for points.

Design Tenets:
The game must be simple so that it's easy to understand.

The game must be realistic as to make users feel present.
The game must be short so that users don't get sick.

The game must be fun so that users want to play it again.
Objectives:
Design with only a diegetic user interface.
Design the game so that it is stimulating and immersive.
Design the application within the constraints of the Oculus Go.
Finish the project within a seven week timeframe.
Wireframes and Prototyping
Designing the Game Loop and Variables
Using a whiteboard and some Expos, I began to sketch out some flows and variables associated with Break Room's design. This included the game loop, breakable objects, and a map of the environment for the game.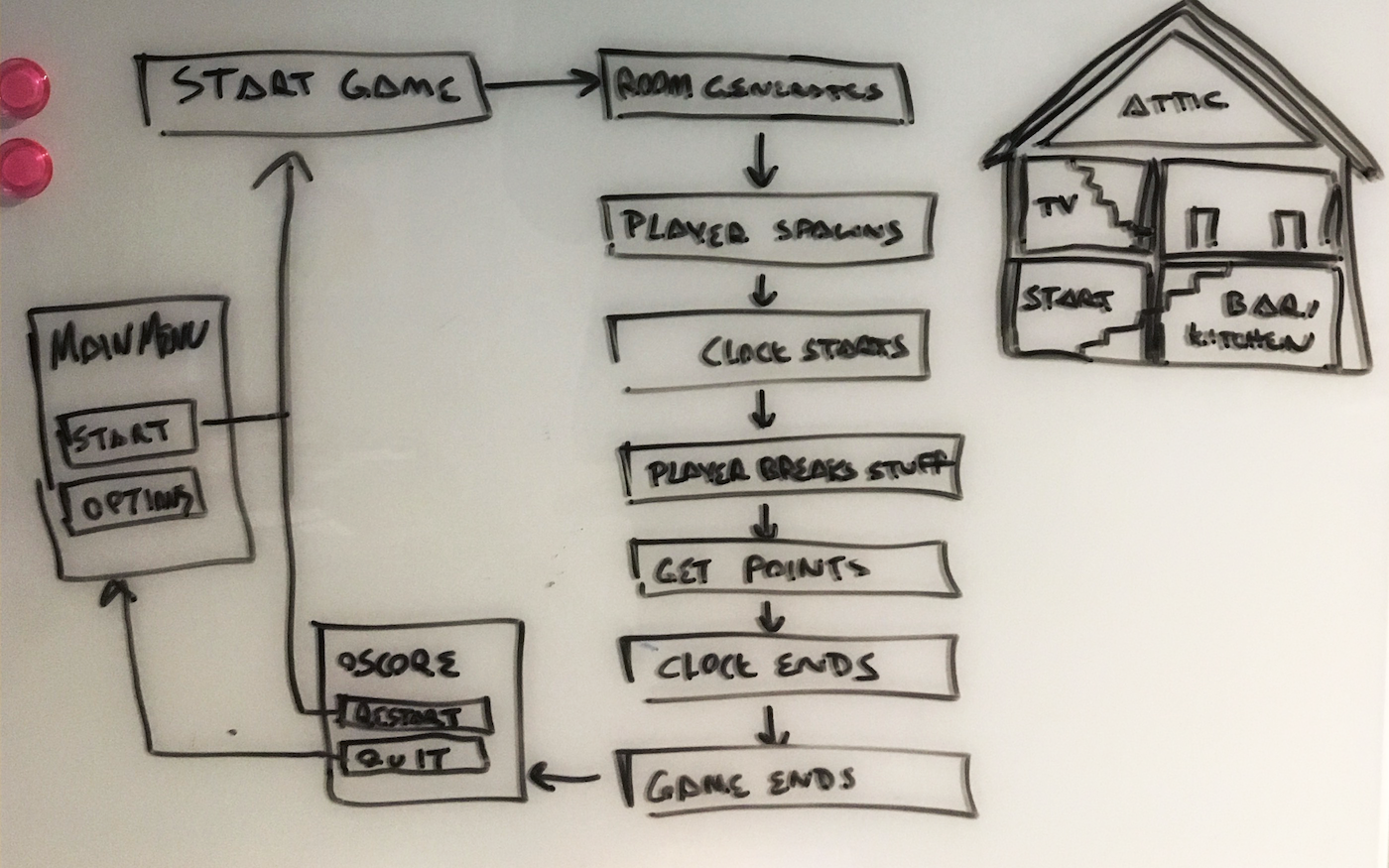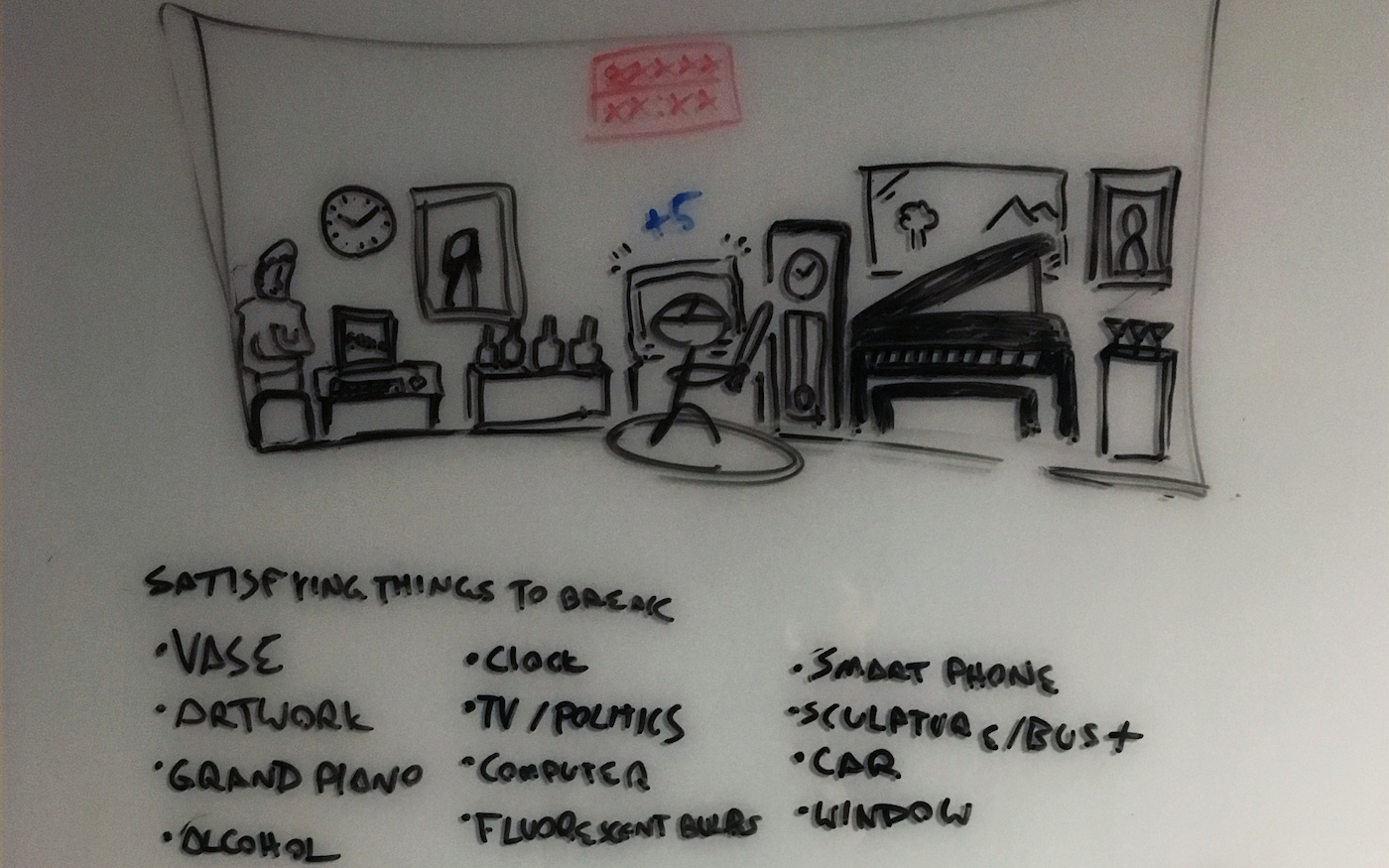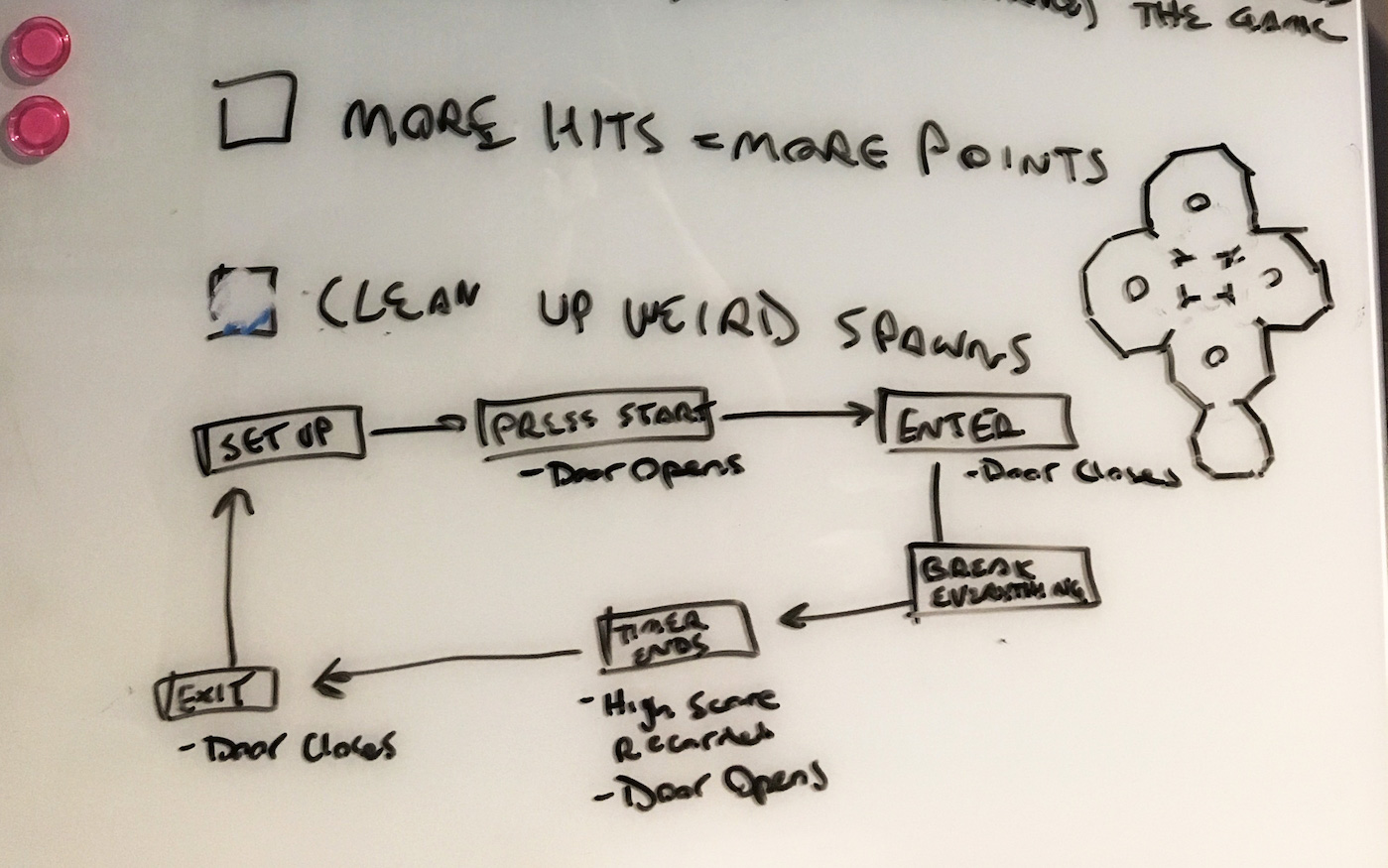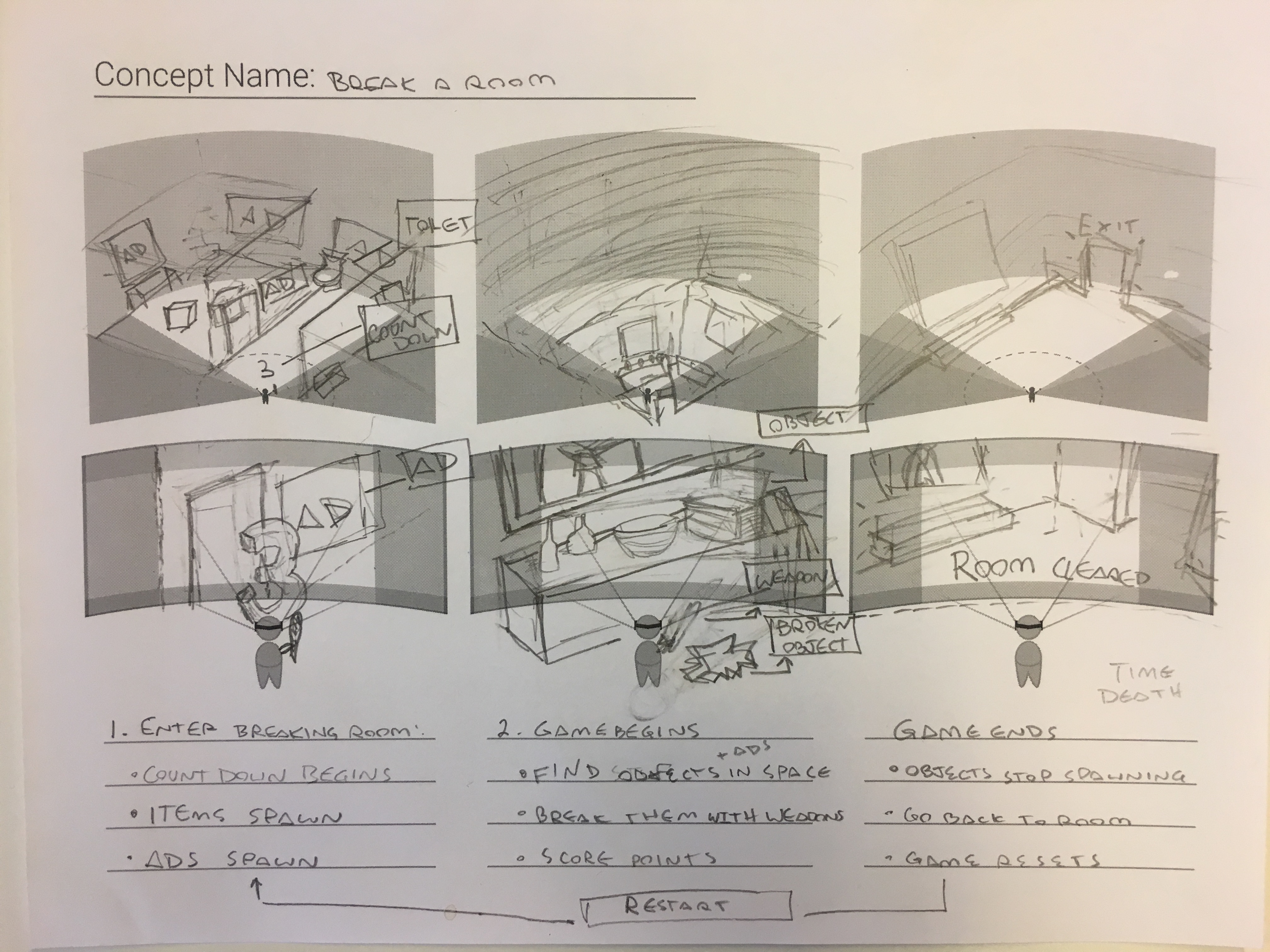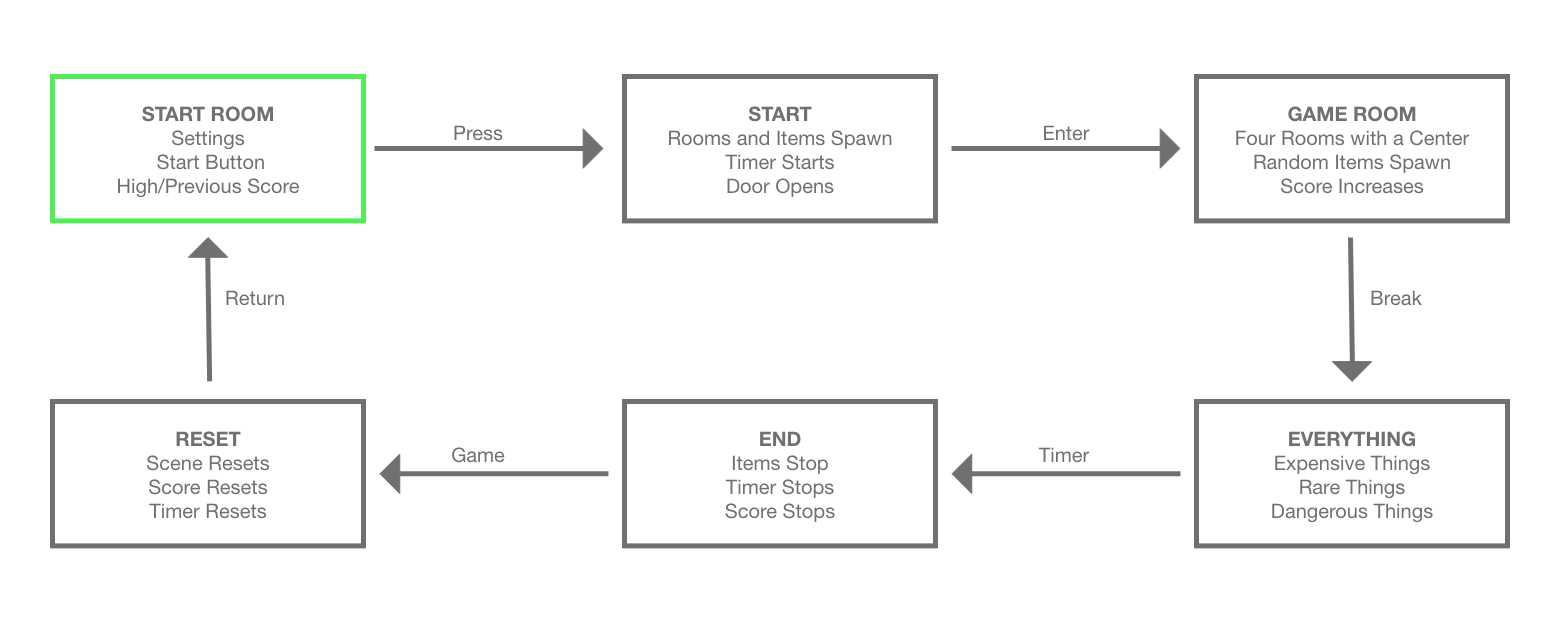 Creating a Testable Prototype
Using some basic knowledge of C# and the program "Unity", I began to craft a prototype that could be used for rapid usability testing. A video of this prototype is shown below.
Testing the Prototype
After the prototype was finished, I assembled a team of 11 family members who could help me uncover usability issues with the program. I ran 11 moderated usability tests with immersants ranging between the ages of 13 and 75.


Participants were asked entrance questions about their experience with VR.
Participants were asked to play through the game loop while speaking out loud.
Participants were asked exit questions related to their experience with the game.
After the usability tests were complete, I took note of some of the major issues found and asked them why they were issues.
Locomotion, visibility of system status, education, and bugs related to players teleporting through walls were the biggest issues found.
Data gathered pushed the project into the final stage of prototyping. Below are some pictures of participants during the testing phase.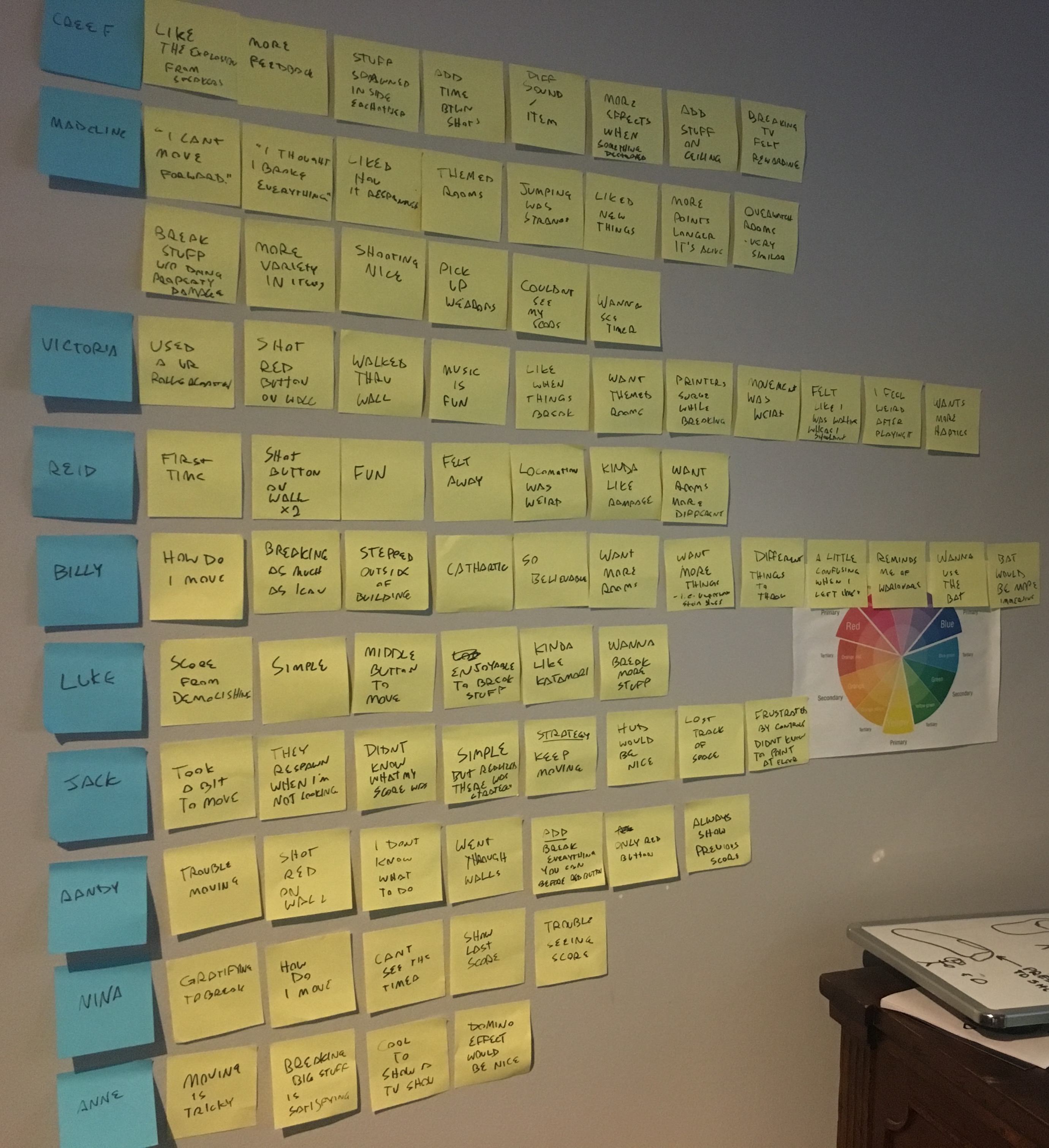 Data Analysis

All data was laid out and coded so that findings could be prioritized based upon saturation of usability issues. Locomotion was the biggest usability issue with eight out of eleven participants reporting issues with moving.

I put these issues into a prioritized list of items that needed to be fixed before my next stage of prototyping was complete.
1. Improve locomotion
2. Design four unique room layouts
3. Design three sets of unique breakable items
4. Remove the red button image from the education panels
5. Make the immersant's score always visible
6. Prevent immersants from going through walls
7. Design a robust scoring system with a combo counter
8. Design a unique weapon power-up
9. Add 3D audio and collision effects (improved diegetics)
10. Design a Previous Score to the loading room
11. Add support for left-handed players
12. Show images on the TV screens
13. Add royalty-free music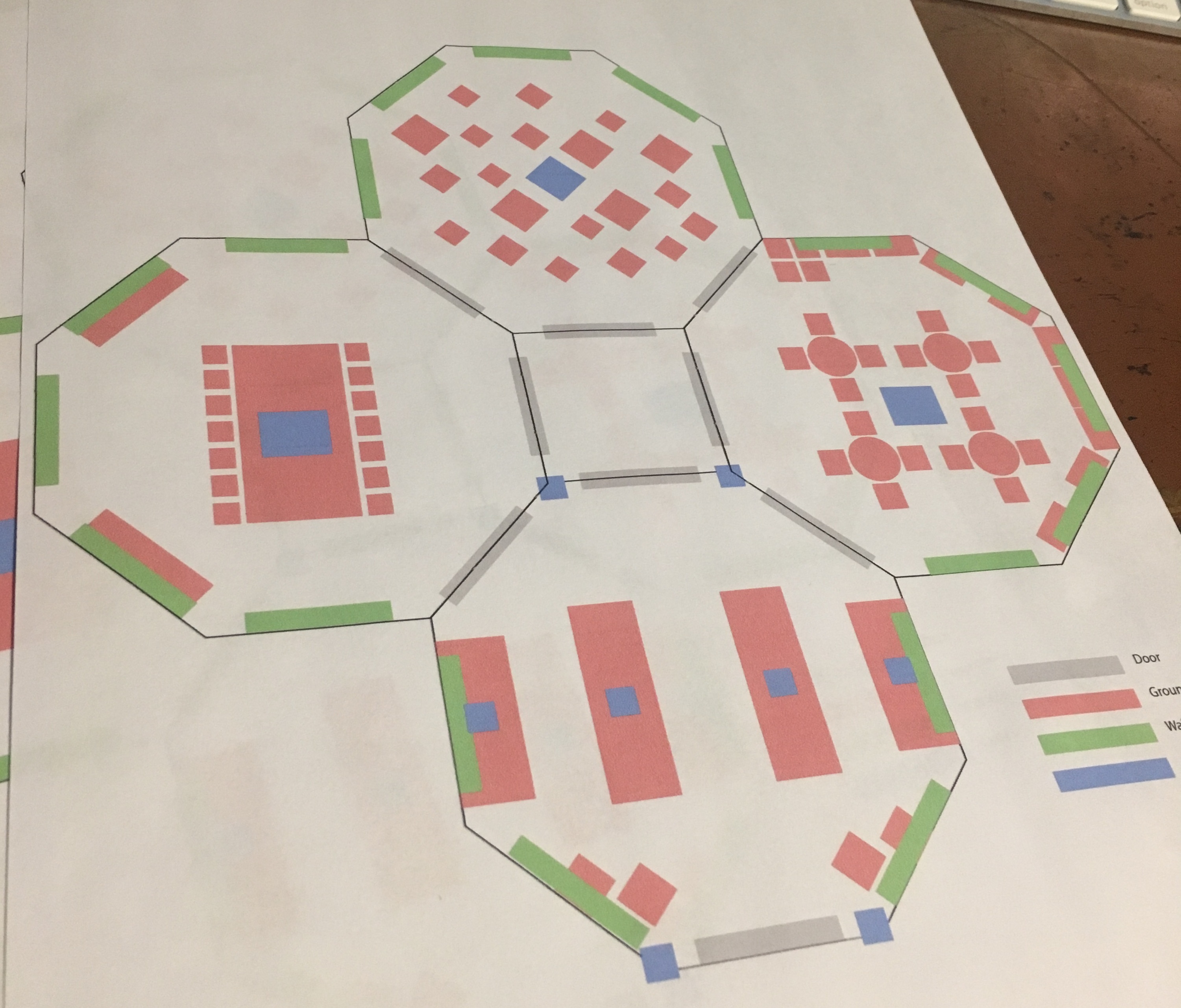 Analog and Digital UI Design
Above: Analog testing the design of the spatial UI
Before doing anything on a computer, I ran a mapping/improvisation exercise by mapping room elements with large post-it notes. After this, I moved into Adobe Illustrator to wireframe what the world would look like. (see image on the left)

Beta Release

I created a second prototype to take into another round of testing. This prototype was published through Oculus as a beta where it has been played by over 60 people.
Lessons Learned

I learned a lot about designing for VR through doing this project. The biggest struggles I included interaction design, iterative design, and prototyping with Unity.


Interaction Design was difficult due to the nature of designing for Oculus Go. Processing power of the device was a major constraint. When my polygon count reached a certain level, the game frame rate would job so low that it would make people sick. Moreover, the Oculus Go controller had two mappable buttons.
Iterating on a second prototype required me to think critically about how features should be prioritized and integrated into the next version. I kept a living backlog of changes that had to be made.

Developing with Unity was difficult. Over the past year I have learned to use Unity at a surface level, but the intricacies of computer science was a library of knowledge I was unfamiliar with. Learning C# was difficult and led to a lot of time struggling to understand how computer languages work.