My Role: User Researcher
Project Duration: Two Months (2019)
Client: [confidential]
Methods: Competitive Analysis, User Interviews, Personas, Mental Model Diagram

Output: Findings and Recommendations Report

Synopsis: Our client for this project was one of the largest warehouse stores in Canada serving all sorts of items from yard accessories to storage products, similarly to a Walmart or Big Lots in the USA. The Approached Balance with a need to understand how people organize things in their garage and what some opportunities might be to innovate in the space. To understand this, we applied human-centered design to run 8 contextual inquiries with homeowners in the Toronto area. Findings are currently confidential.

Garages are typically used for a variety of things including long-term storage, short-term storage, mechanical/workshop purposes, and parking cars. Our client needed a better understanding of the particular needs, frustrations, and goals associated with different garage owners and how improved tooling could improve their garage experience.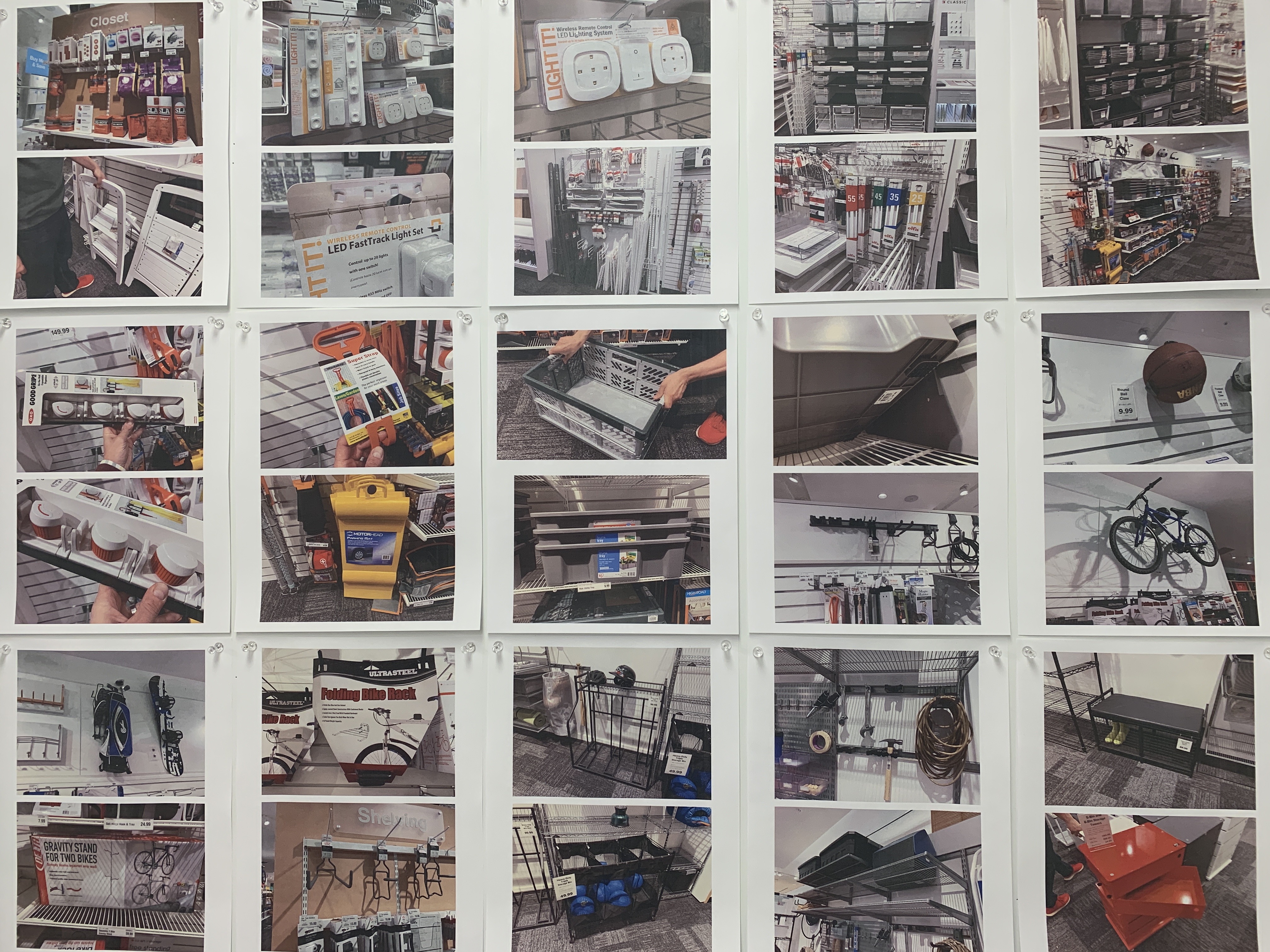 Competitive Analysis

We started out by understanding the competitive landscape of garage storage products as well as by investigating our client's current solutions.

Some Areas we Looked In to:
Conventional Dimensions
Overhead Storage
Bins
Bike Storage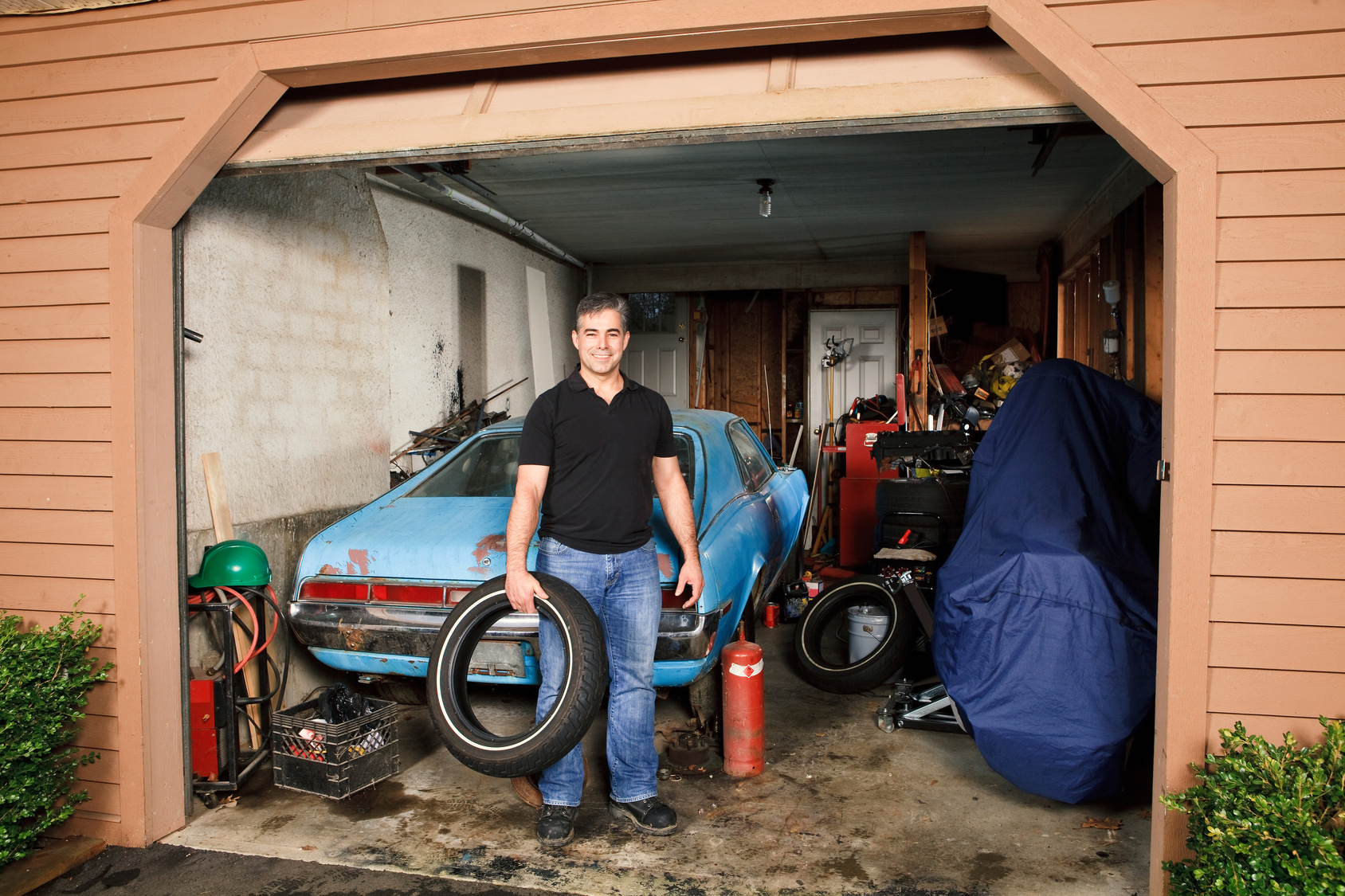 Screening/Contextual Inquiries

Our team screened eight homeowners based on their garage size and usage. We then met with them for 45-60 minute contextual inquiries where we toured their homes and asked questions surrounding their storage decision-making and garage usage.

We also used Virtual Reality to snap 360 photos of participants garages so we could dive into them later on an Oclulus Go.

Some Research Objectives:
Understand the goals, needs, attitudes, motivations, and frustrations of people who use their garage as a storage space
Understand the tools and methods users are currently utilizing to organize their garage
Understand the context and constraints associated with the environment (garage dwelling) within which items are stored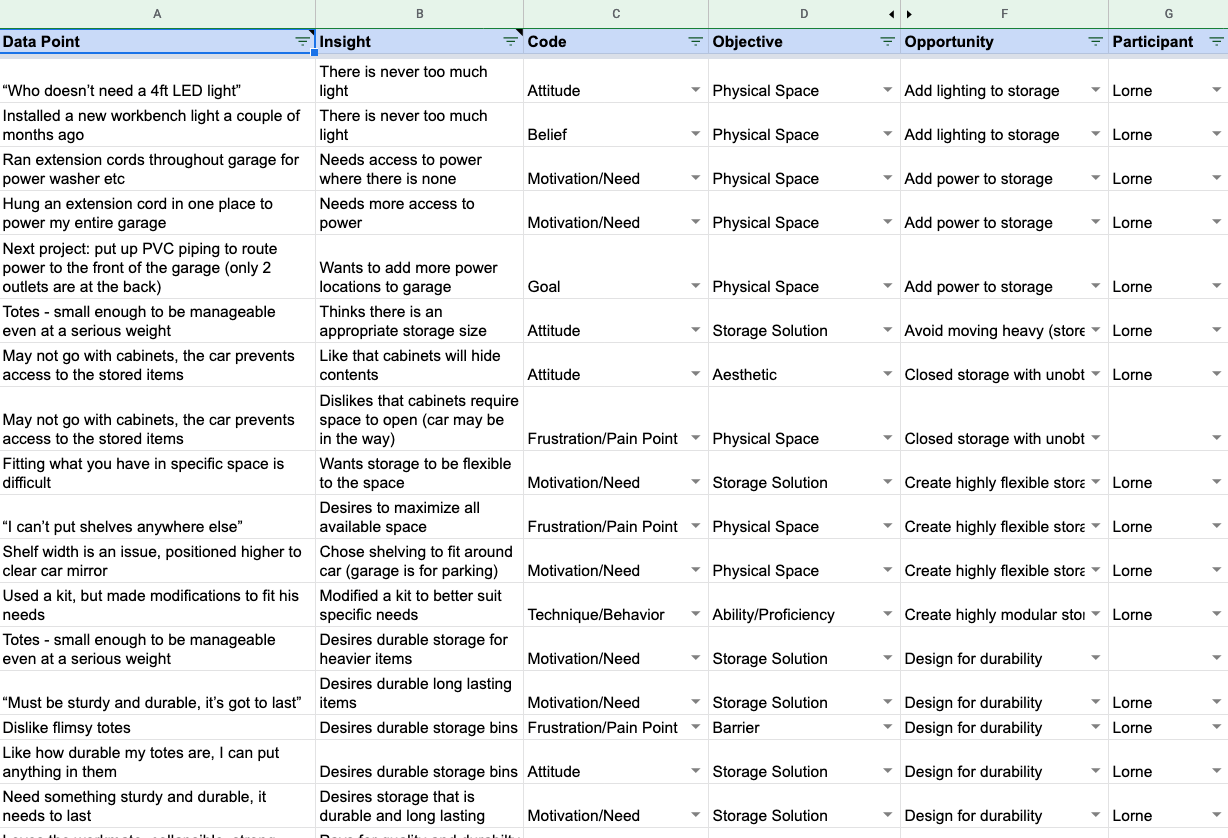 Analysis
After reviewing the recorded contextual interviews, our team used Google Sheets to comb and code the data for qualitative variables. This helped to bring out patterns in the synthesis section.

Research Objectives:
Extract all datapoints from videos

Create a taxonomy of Opportunities
Create a taxonomy of Insights
Create a taxonomy of Objectives
Create a taxonomy of Qualitative Codes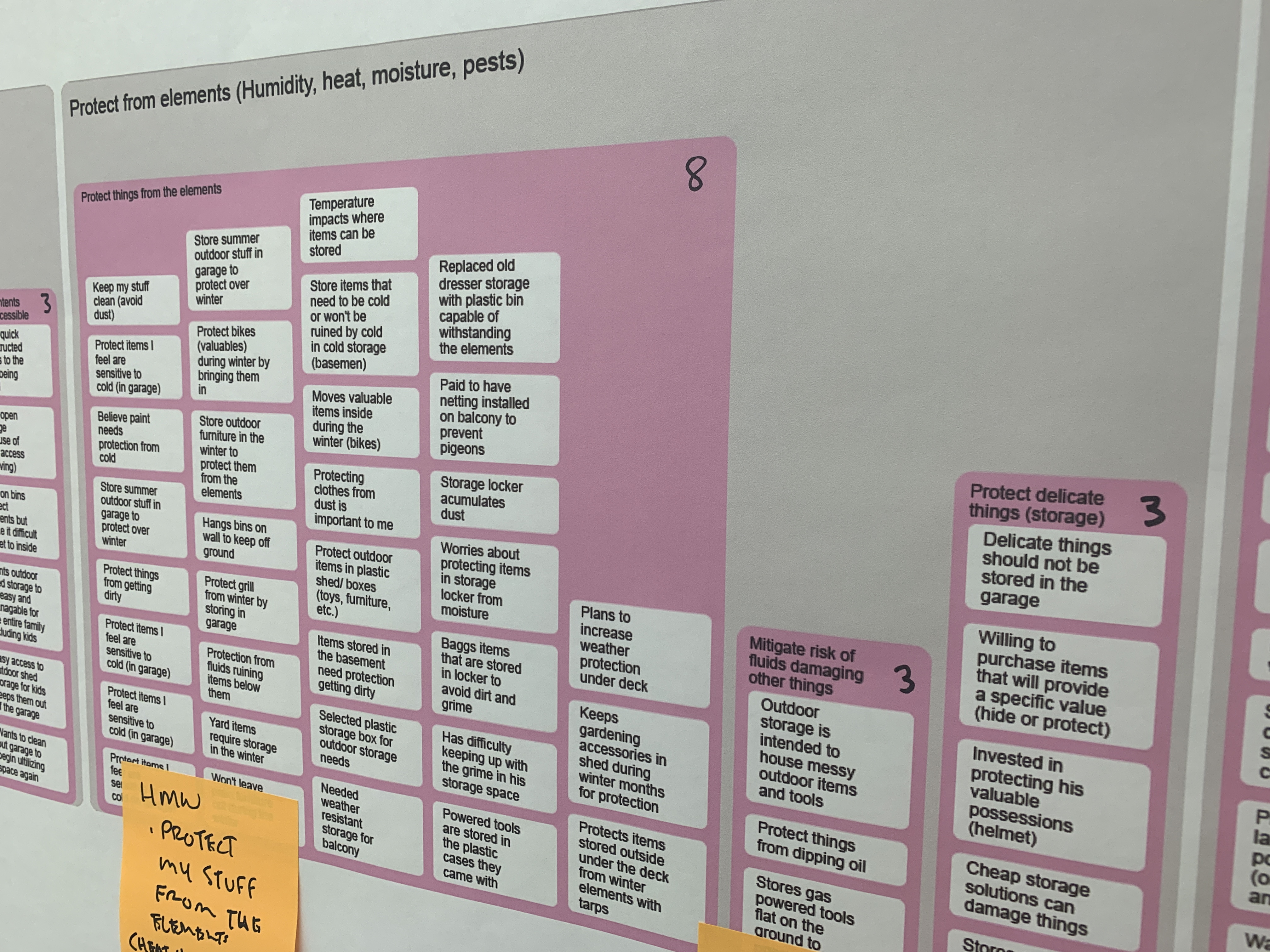 Synthesis/Mind Mapping

Using a Mind Map, we were able to create clusters of Mental Spaces that would help to define the opportunities reported back to our client.

Mind Map Details

Tier A: Mental Space
Tier B: Opportunity
Tier C: Insight
How Might We's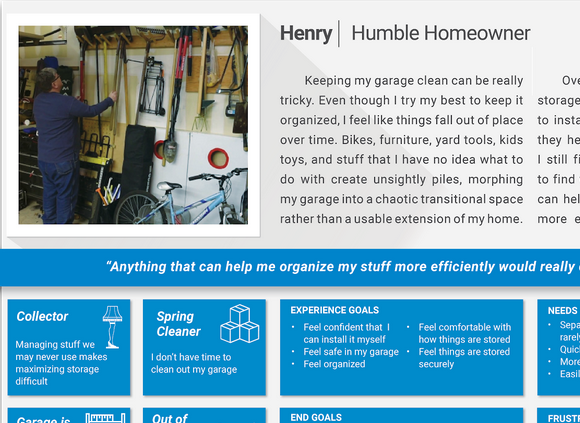 Personas
Using the previously accumulated data, we created personas to help tell the story of the garage owner and their goals, needs, and frustrations as they relate to their garage.

Persona Details

Persona Biography
Persona Attributes
Experience Goals
End Goals
Needs
Frustrations
A few lessons from this research included:
One of the biggest issues we ran into early in the process was that virtual reality is an excellent tool for ethnographic research. By taking 360 photos of participant garages we were able to re-visit the space later and capture some incredible insights.

One of the biggest struggles we dealt with was a totally incompetent research participant who not only refused to let us film him, but was very rude to us. He provided very slim answers and, unfortunately lied through our screener about some of his behavioral characteristics.
When creating the personas for the project, we quickly learned that we had to step back to our 360 photos in order to categorize our participant into variable clusters. One thing we learned quickly was that though participants said they often used their garage and that their toolboxes, they were actually cluttered and covered and stuff and completely unusable. By using VR we were able to notice this which could have had an awful impact on our persona design.