FARMFARE USER EXPERIENCE DESIGN
My Role: UX Designer and Evaluative User Researcher
Project Duration: Two Months (2017)
Client: FarmFare
Methods: Heuristic Evaluation, User Interviews, Findings Reports
Output: Findings and Recommendations Report

Synopsis: I was brought into the Farm Fare project as an agent of evaluation and validation. Though I did have some impact on the visual and interaction design or the product, by the time I started, the project was already through a development cycle. Farm Fare is an amazing concept, it is a mobile application that serves as liason between restaurant chefs and fresh produce distributors. My role for this project was to evaluate if Farm Fare met UX standards, and whether or not real chefs could use it. Lessons learned in this process mostly had to do with design communication and resouce constraints

Validation and usability testing a developed app

The app FarmFare had already gone through high-fidelity design and development and was in the process of being released on the iOS and Android markets. The problem was that the app had not gone through formal usability testing or heuristic evaluation.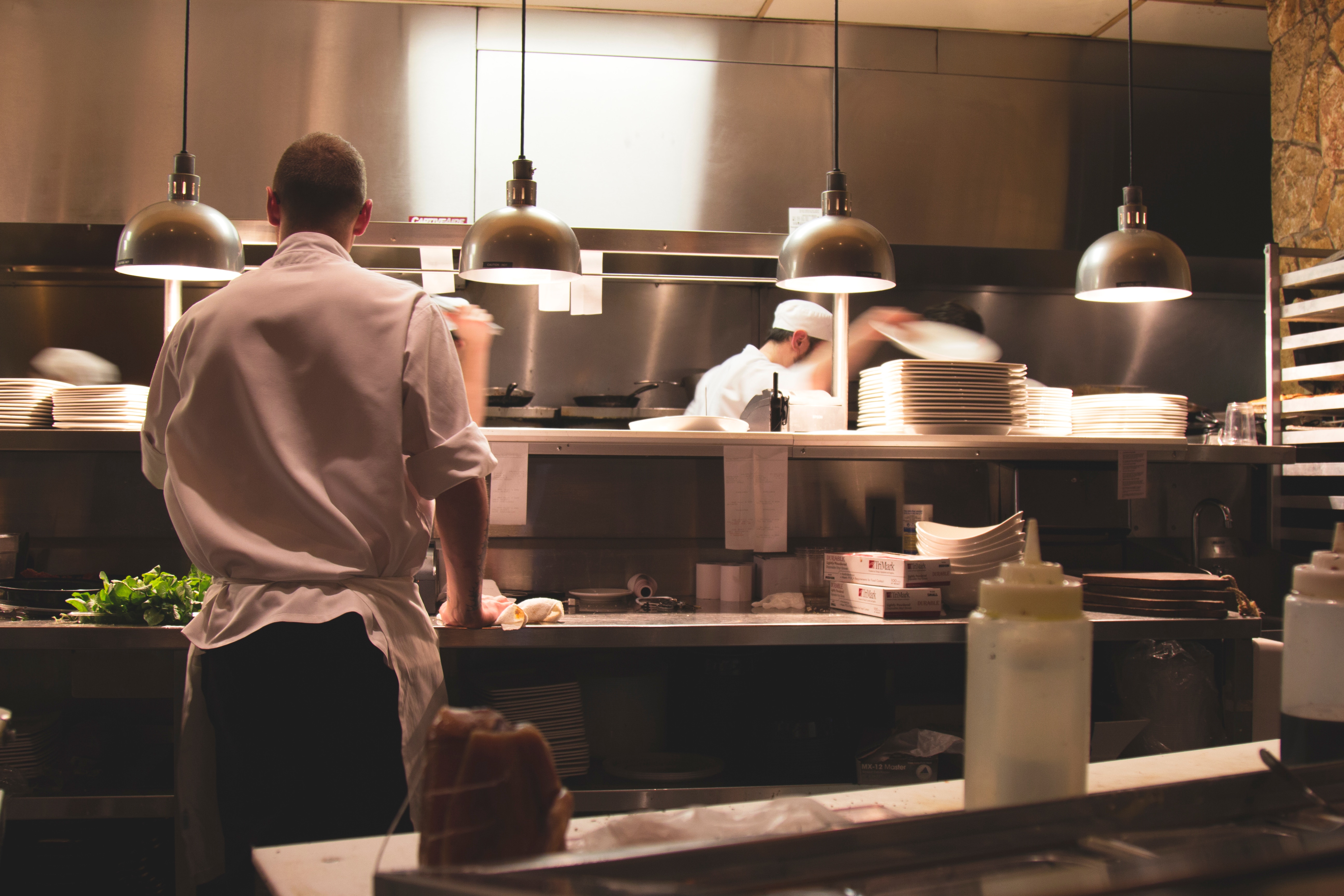 Getting the app in front of chefs

In order to make sure that the FarmFare app was streamlined with the usual tasks of chefs, my colleague and I brought the app to 3 chefs in their respective restaurants. The interview protocol asked chefs to walk us through their activities when auditing their stock, and then show us how they would use the FarmFare app to complete a number of use cases.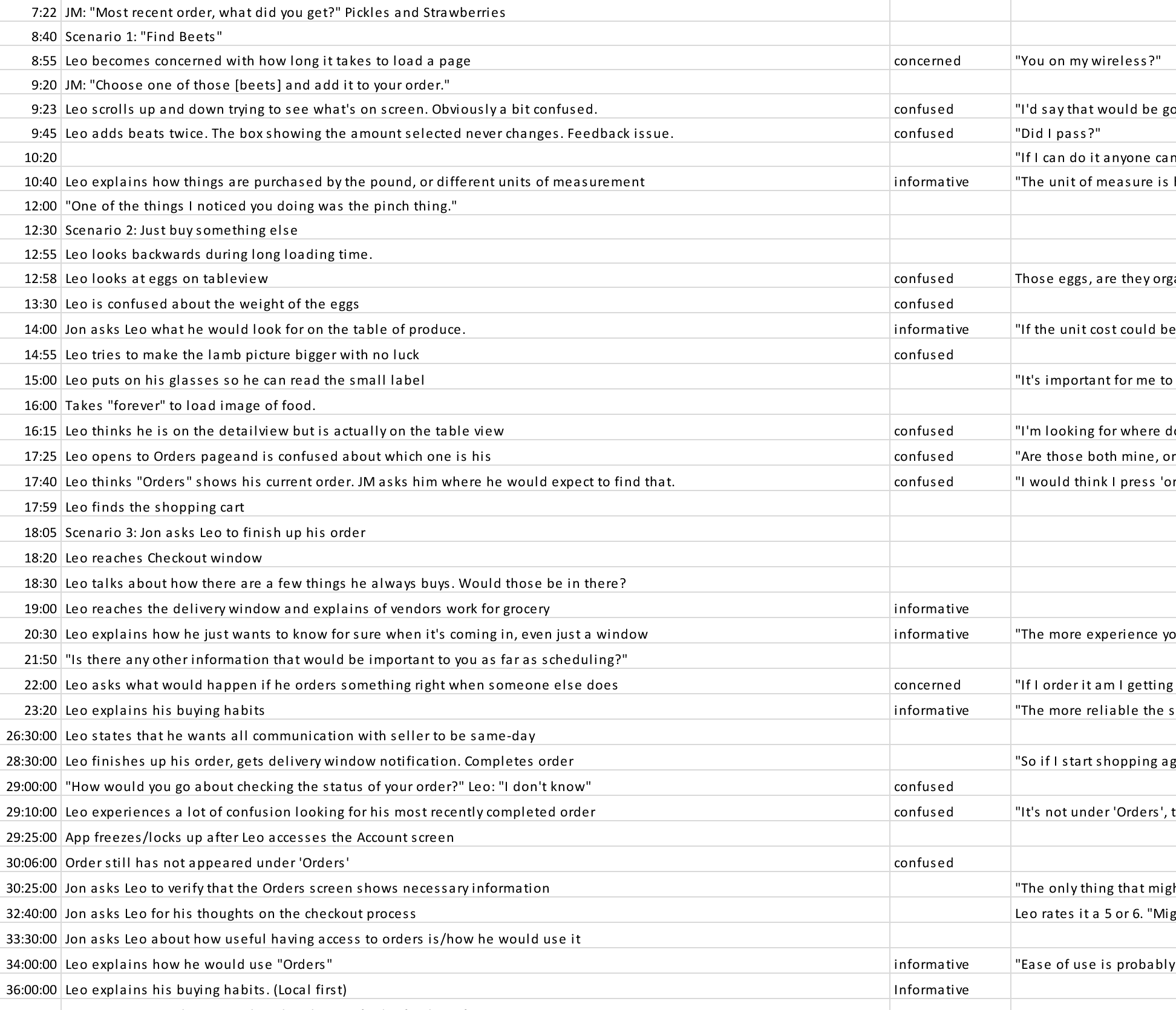 Coding the data for behavioral patterns and identifying frustration

After running and recording all 3 interviews, I began to watch them again, noting behavioral patterns throughout the experience. I was able to identify a variety of technical and usability issues in the app. For example, the app lacked a way to calculate the weight of produce which a key requirement for chefs in their auditing process. Furthermore, there were clear bugs in the app that needed to be resolved.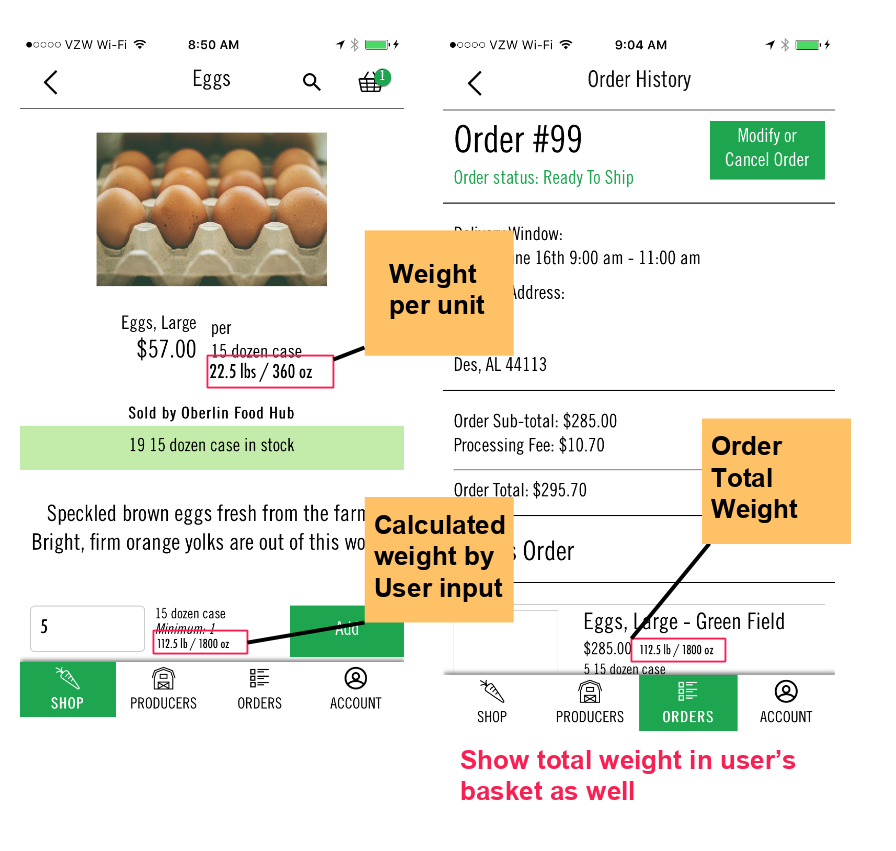 Analyzing the app through a heuristic evaluation

I began to run a heuristic evaluation on FarmFare, combining my findings from the interviews and usability tests in order to develop ten prioritized recommendations for FarmFare's next development cycle.

Delivering the results

I pieced together a 15-slide deck going through my methodology and the top 10 findings. This was delivered to FarmFare stakeholders, and most issues were resolved in the next development cycle.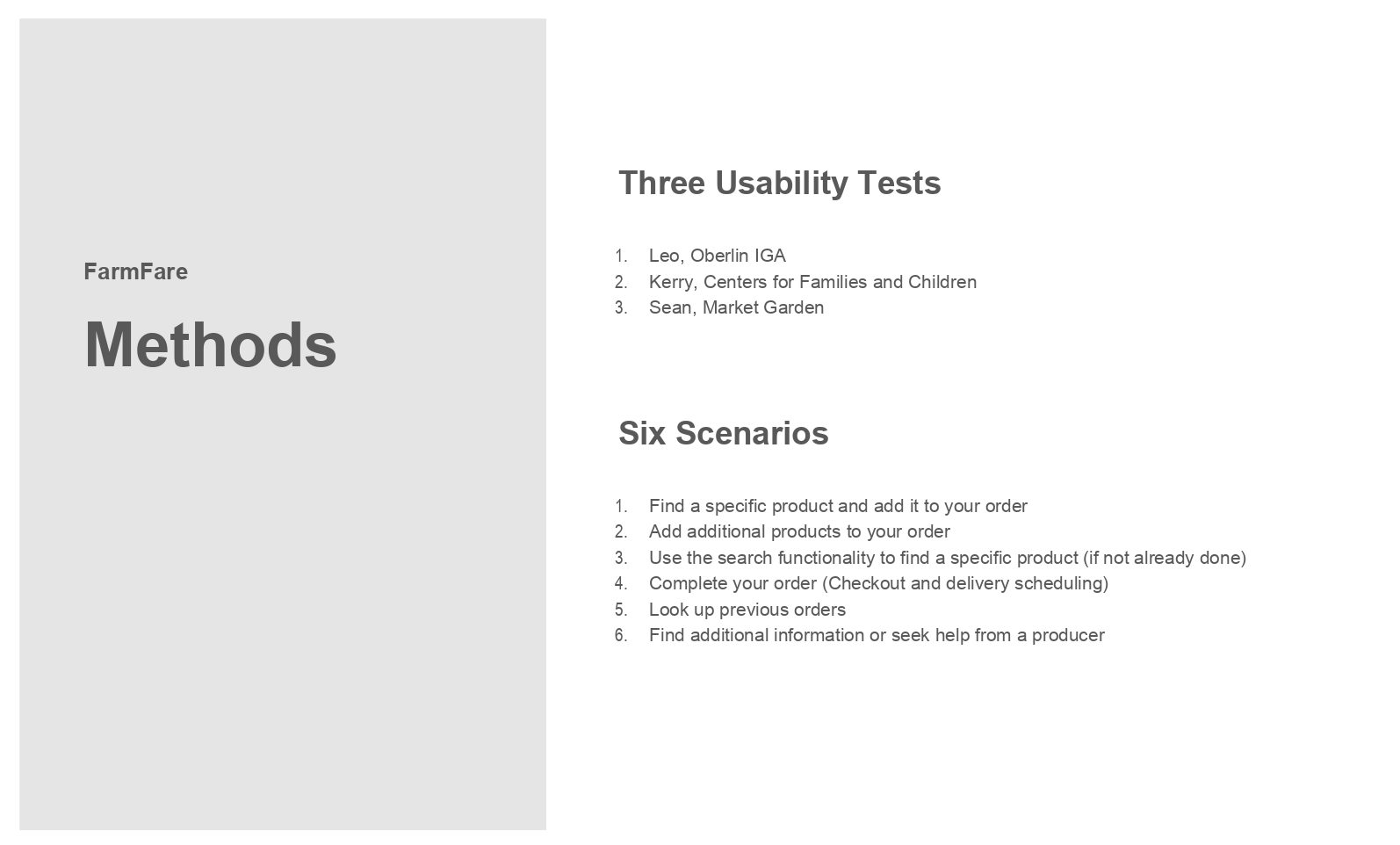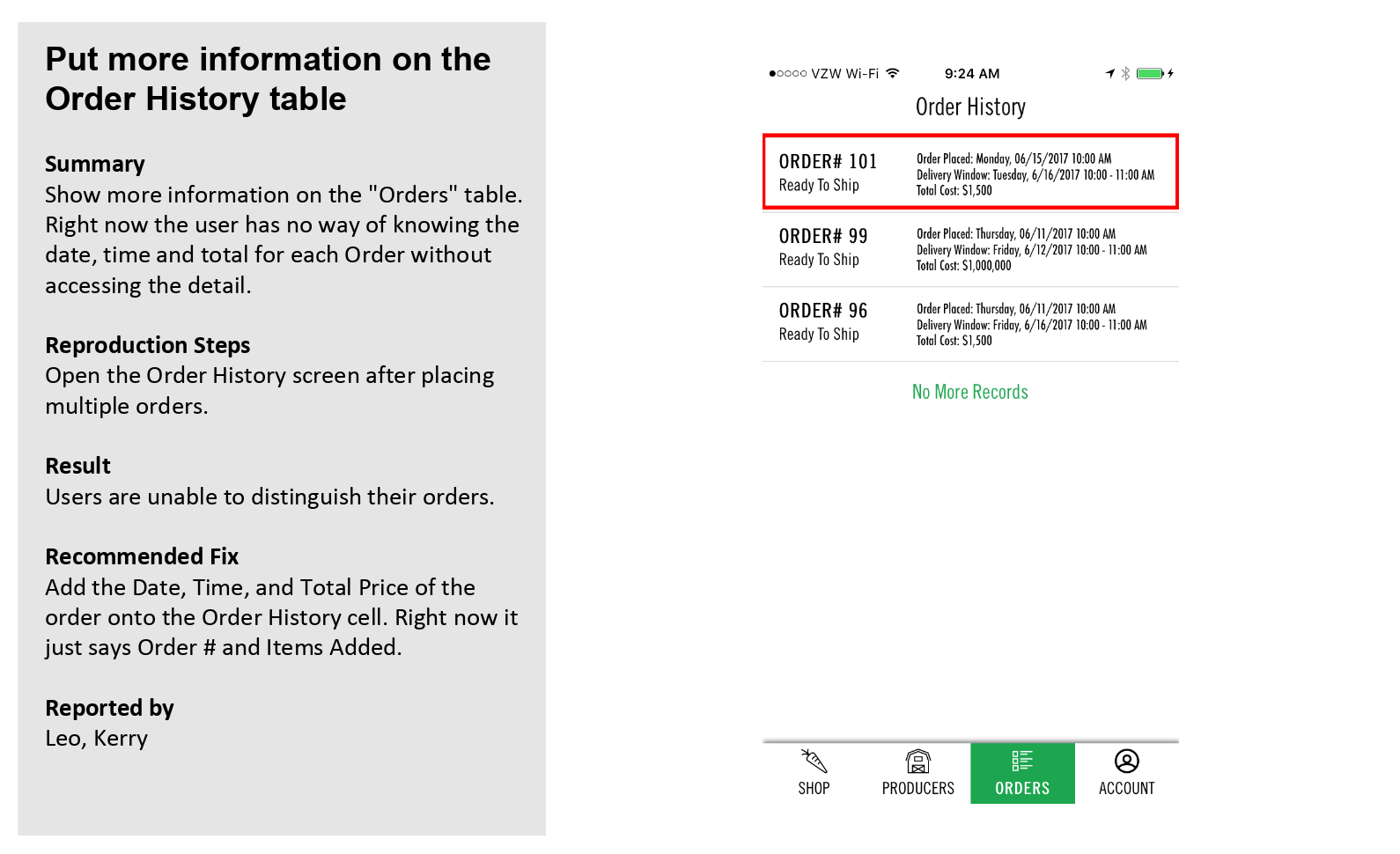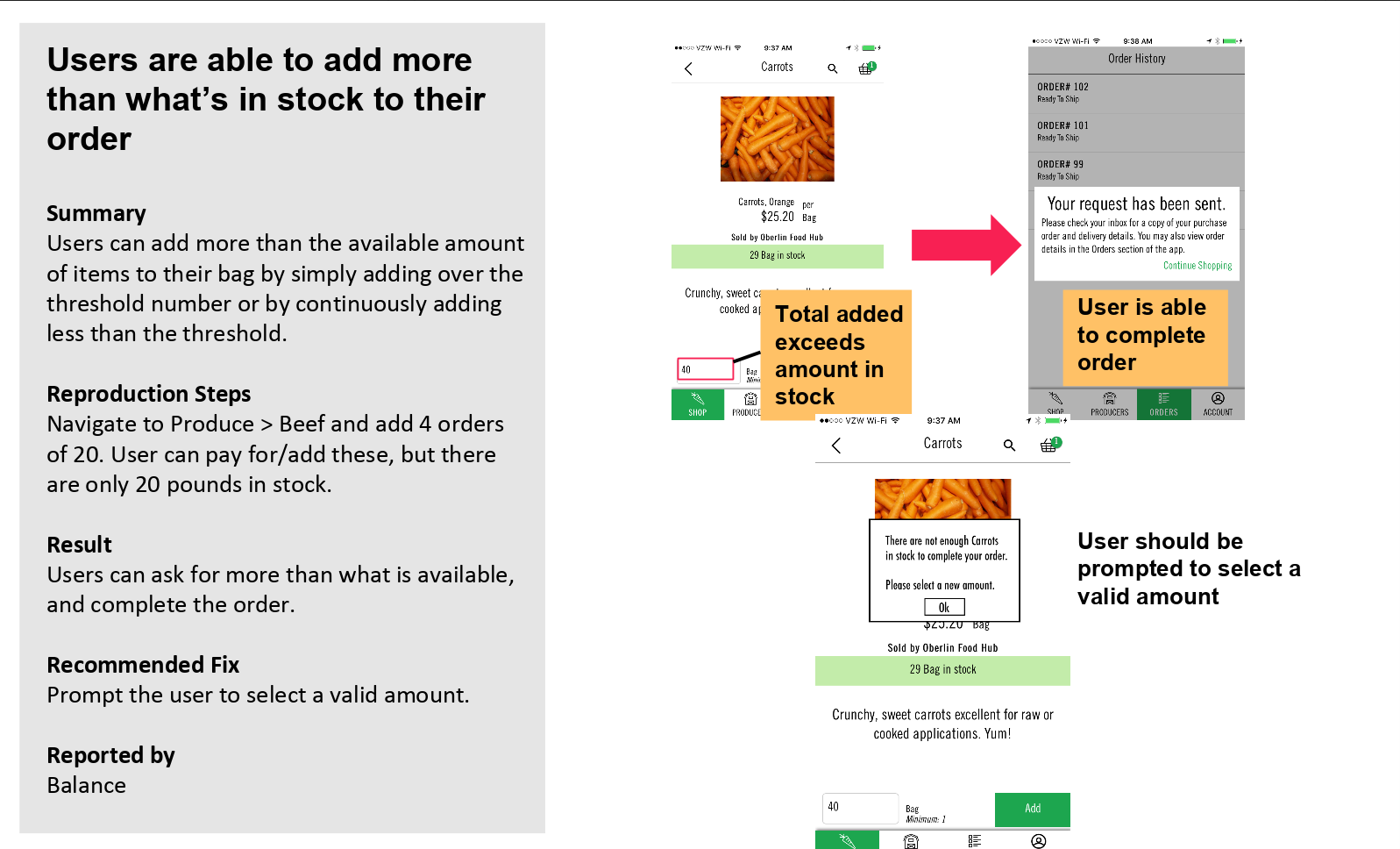 Lessons Learned

One major lesson learned through this project was in design communication. On my initial presentation of findings, I stayed too high-level, and stakeholders had a hard time seeing what I was trying to talk about. My first iteration was geared towards developers, following a usual QA Summary > Results > Expected Results process. I went through a second iteration of my communication including annotated wire-frames and mockups, which made it much easier to explain to stakeholders that the issues I was explaining were in fact real issues.
Another lesson was in time and budget constraints. My goal was to complete the entire process under a small window of time, so keeping the process steam-lined was challenging and I hit some snags when moving into the design communication section of the project. Communicating design to designers is one thing, but communicating issues in a way that can be easily understood without confusion or error is beneficial for everyone. Sometimes constraints make this difficult.